Why WhatsApp is So Unpopular in the USA
Only in the home country of WhatsApp, the USA, no one seems to use the app. Why?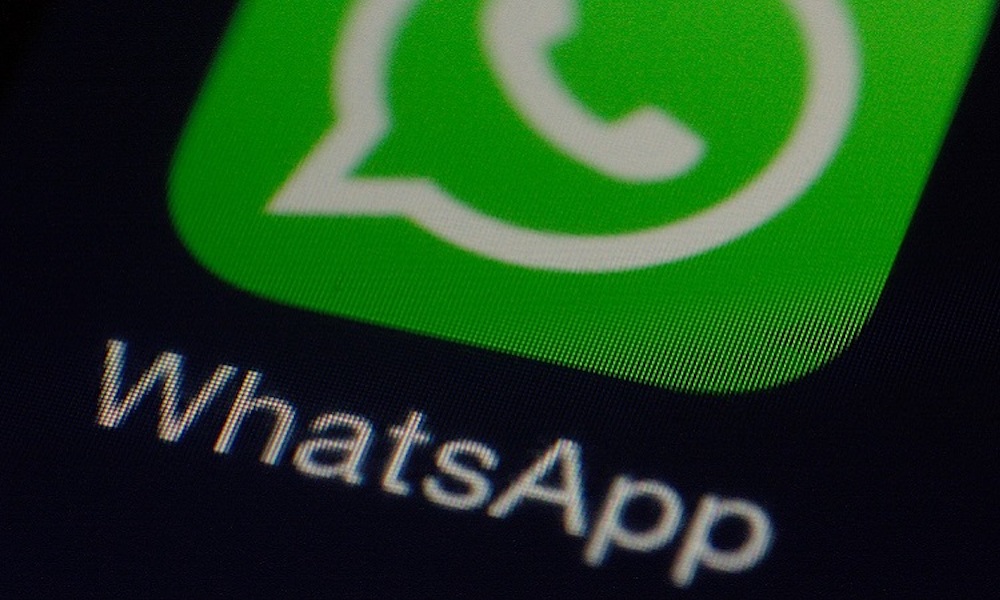 You have it, your neighbors have it and your grandmas probably have it: WhatsApp. In Germany, Austria and Switzerland, the messenger service is one of the most popular smartphone applications of them all. Only in its home country, the USA, no one seems to use the app. Why?
More than half of all Germans use WhatsApp. Whether for texting with friends or for promotional purposes, the Messenger app from Silicon Valley has taken Germany by storm. According to a survey by Statista, Germany is one of the countries where the service is most widely used worldwide.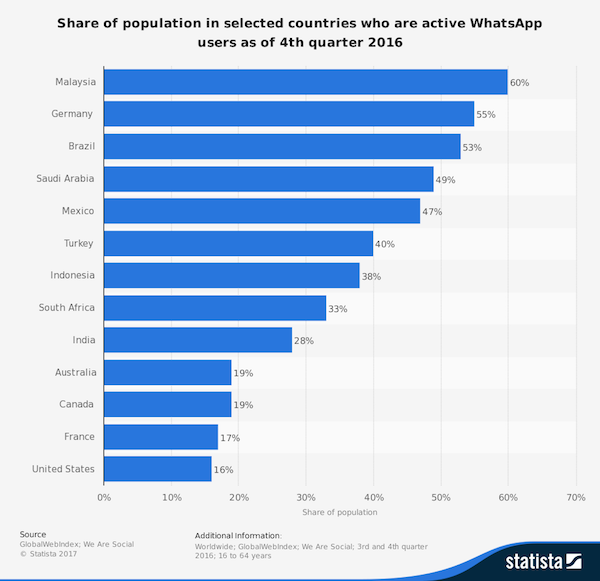 As you'll notice, the US is last on this list. Why do so few people in WhatsApp's home country use the service?
Who is actually behind WhatsApp?
When Facebook bought WhatsApp in 2014, many questioned: who or what is WhatsApp? And why is the social media giant investing $19 billion on it?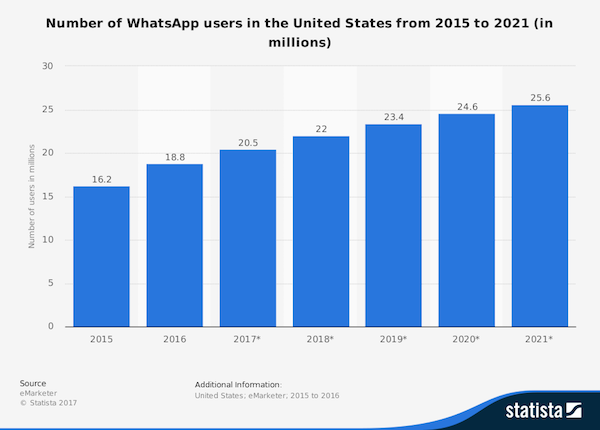 While in countries like Germany, Austria and Switzerland, WhatsApp has replaced text messaging practically over night, most Americans have never used WhatsApp. Although the number of WhatsApp users in the US is rising, the app is still relatively unknown. Why? Why is WhatsApp so unpopular in its own country?
WhatsApp vs. SMS: No reason to change
If you have a mobile phone in the US, you most likely have a mobile phone contract. Since the mobile market is a very competitive one, the offers for users are very attractive. Flat rates for SMS and free minutes are included in almost every offer. And this has been the case for many years.
Unlike in Germany, prepay options were never popular or attractive and so hardly anybody in the US pays separately for each SMS. So, there is a very good and cheap messenger service in the US–  your own mobile phone.
In addition, the data packages in the US are expensive. So it is actually cheaper to send an SMS than to use WhatsApp. Why change?
Facebook Messenger has a tight grip on the US market
Now, of course, it is not the case that Americans do not use any messenger apps. In addition to the classic SMS, people like to send messages via Facebook messenger.
With the combination of Facebook messenger and SMS, you can reach almost everyone in the US who you want to reach by text message.
So, if you have Facebook Messenger and your own mobile phone provider and use these to communicate with all your friends and acquaintances, who needs a third service that does nothing different or better?
US users are app-weary
In addition, users are getting tired of new apps. Their smartphone screens are already overloaded with apps. Users become more selective when it comes to downloading a new app.
The fight for a place on the smartphone has become tougher, and if an application offers neither something new nor a better or cheaper service, as is the case for WhatsApp, few see a reason to download it.
Anyone looking for alternatives in the US does not land on WhatsApp
The only ones who actually see the benefit of WhatsApp in the US are users who have family or friends abroad.
After all, the mobile phone contracts in the US leave a gap in the market that WhatsApp is filling. Sending SMS abroad or making calls outside the US is very expensive without special packages.
Thus, most Americans using WhatsApp are most likely to come to the service because of family or friends abroad, but rarely from self-initiative.
Speaking of initiative. There are, of course, also users in the USA who are concerned about data protection and are looking for a safer alternative to Facebook, Skype or the classic SMS. However, they do not end up using WhatsApp, which is rather questionable in terms of security, but on messenger apps like Telegram or Signal.
While WhatsApp is extremely popular in the rest of the world, the service is still waiting to catch a break in its own country.
Why Twitter Doesn't Delete Donald Trump's Insults
Twitter has been Donald Trump's favourite communication channel ever since yesterday.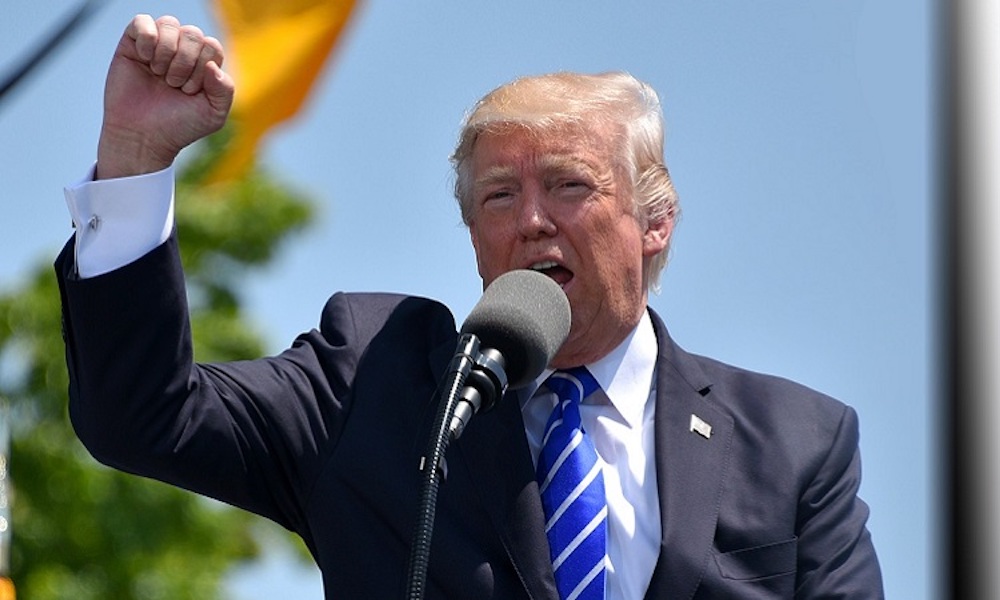 The US President has posted threats of violence and insults – such as those against North Korea most recently – on Twitter. Although such messages violate Twitter policies, the short messaging service is letting the tweet and the account stay on the network.
Donald Trump and his furious outbursts on Twitter are an endless topic. The US president recently called on fans to boycott the NFL – and in return was met with considerable criticism from fans, players and club owners.
A few days earlier, Trump had dropped a highly explosive tweet. In it, he threatened North Korea and its dictator Kim Jong-un with the extermination of the country.
Donald Trump violates policy – and nothing happens
In particular, the last part of the tweet – "will no longer exist" – is clearly to be understood as a threat. This is a clear violation of the Twitter code of conduct by Donald Trump.
It literally says:"You are prohibited from making violent threats or incitements to violence against others, including threats or incitements to terrorism."
Anyone who violates these rules is actually banned temporarily or permanently. Nevertheless, both the tweet and the president's account are still online.
Since the emerging criticism did not fade away, Biz Stone, co-founder of Twitter, tried to explain himself in a contribution on Medium.
He explained first of all that all accounts are treated in the same way. When a tweet is reported, various factors are checked. These decide whether the message is actually removed from the network.
Two of these categories are the "news value" and the "public interest" in a tweet. Both have been part of the guidelines internally for a long time and will be better communicated to the public in the future.
Whether Donald Trump has violated these guidelines remains to be seen. However, it is clear that the US president's statements on Twitter are obviously always worthy of news and thus remain on the platform.
Twitter thus legitimizes any of Trump's failures and at the same time voluntarily becomes the president's instrument.
Since January 2017: Massive Collapse in Facebook Engagement
Since January 2017, Facebook's commitment to brands and publishers has fallen by more than 20 percent. This is shown by a recent investigation. We will show you some reasons for this.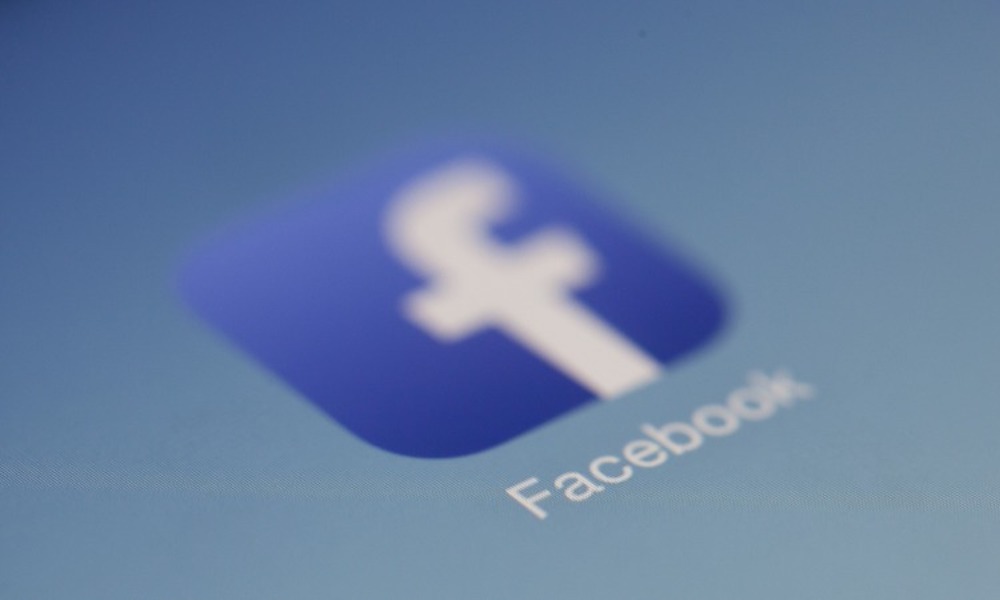 These are figures that make it difficult for advertisers, brands and companies to be happy: since January, 2017, Facebook's commitment to publishers and brands has fallen by more than 20 percent (!).
This is what the analysis platform Buzzsumo found out by analyzing more than 880 million Facebook posts. The average engagement in a post has fallen from 340 to 264 in the past six months.
If you look at the facts at a deeper level, you see that picture posts suffered the biggest slump (from 480 to 325). Link posts fared only slightly better, sinking from 214 (already a low level) to 168.
The smallest losses are for video content. The average engagement with a video post fell from 636 interactions to 560 from January to June 2017. Still, average engagement with videos is still 3.3 times higher than for traditional link posts.
Reasons for the declining Facebook engagement
So why is it that the interaction rates on corporate sites have plummeted so much since the beginning of the year? There is no simple answer to that. It is probably the interplay of several factors that reinforce each other's effect.
Rising advertising spending: The decline in the organic reach of Facebook pages is likely to be directly linked to the rise in corporate advertising spending. Anyone who is not prepared to invest money in Facebook advertising will have to be satisfied with a further decline in reach in the long term.
More competition: The space in the news feed of Facebook users is limited. The more money companies spend on Facebook advertising, the more competitive the ad space. In addition, in the meantime, almost every company has a presence on Facebook. This in turn means that the number of competitors is steadily increasing.
More content: As the number of Facebook pages increases, there is an increase in the amount of content available. With each new page and the decreasing reach of each post, pages increase the number of posts they make and the total amount of content on Facebook shoot upgrows. By the way: Facebook expects an average of 1,500 post slots per day in a user's news feed.
Changes to the algorithm: Of course, the continuous changes to Facebook's news feed algorithm also contribute to the fact that engagement is decreasing. A good example of this is fake live videos with an invitation to vote via reaction. This misleading method has now been banned by Facebook. With the disappearance of the "format," the numerous interactions have, of course, also failed to materialize.
The Buzzsumo numbers prove the progressive decline of Facebook as a publication channel. However, Facebook's level of engagement is of course still clearly above other channels such as Twitter or LinkedIn.
In addition, there are still enough formats – (keyword: live videos) – which, in combination with good content, are delivering great results.
Long Awaited Feature: Soon You Will Be Able to Share Instagram Stories on Facebook
In the meantime, Facebook itself seems to have realized that the Snapchat clone Facebook Stories is a flop. To increase usage, the social network is now testing the ability to post Instagram Stories on Facebook.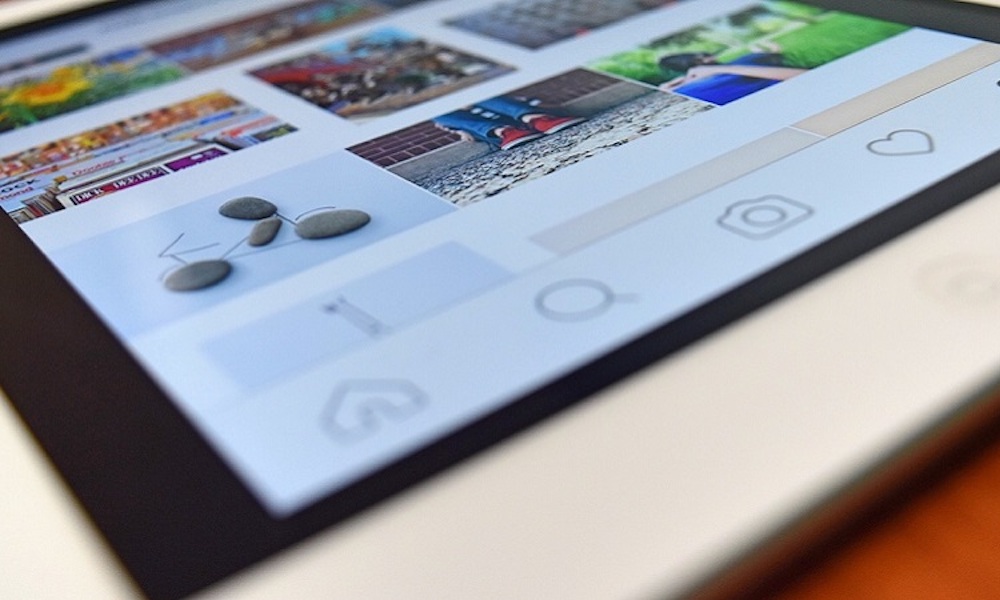 Facebook and its Snapchat copy: this story has both positive and negative sides. Instagram Stories are a very pleasing feature from Facebook's point of view: more than 250 million people use the format every day.
Just as big in the negative sense is the non-use of Facebook stories. This seems to displease Facebook so much that Mark Zuckerberg's social network now wants to display the popular Instagram stories on Facebook.
Sharing option for Instagram Stories on Facebook
Navarra works as Director of Social Media for the American industry magazine The Next Web and its conference.
In his tweet, Navarra shows two screenshots in Spanish. One shows the sharing interface of Instagram. This is supplemented by another tab. This allows users in the test group to share Instagram Stories on Facebook – directly and without detours.
The second screenshot shows the shared contribution within the Facebook stories. There you will find the obligatory notice about the posting time as well as the word "Instagram." Facebook tries to make it clear that the shared content originates from the image network.
Greater reach for Facebook and Instagram
The planned move by Facebook represents a win-win situation for both the network and content producers.
On the one hand, Facebook succeeds in increasing the use of Facebook Stories in this way. On the other hand, Instagrammers are rewarded for their work by more viewers and an increased range.