The electric Boosted board has gained a lot of popularity through its appearance in numerous videos of Internet-famous users such as Casey Neistat and Jesse Michael Wellens.
The remote control feels good in the hand, the board feels safe – then off you go like Casey Neistat through New York City traffic. That is how it is supposed to work theory. As simple as it looks for YouTube star and media entrepreneur Neistat, it is unfortunately not so simple for the rest of us. But from the beginning.
Once you have cut through all the unwieldy cardboard packaging, you find the completely assembled board, a charger (attention: the USA-Germany adapter is not included!), a Bluetooth remote control with wrist strap and USB charger and a simple, illustrated and appealing instruction manual.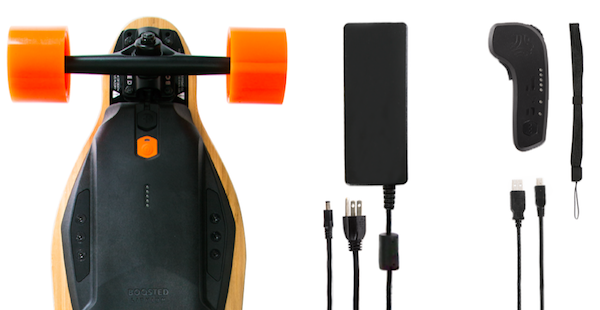 Differences: Boosted Board Dual vs. Dual +
We tested the Dual + version. The differences between it and the normal dual board are 200 US dollars, 500 watts, 3 km / h top speed, 5 degrees slope and an extra grip surface (grip tape). Here is an overview of all the important specs:
| | | |
| --- | --- | --- |
| Specs | Dual | Dual+ |
| km/h | 32 | 35 |
| Range | 11km | 11km |
| Slope | 20% grade hills | 25% grade hills |
| Watt | 1.500 | 2.000 |
| Weight | 6,8 kg | 6,8 kg |
| Grip tape | normal | extra |
| Modes | 4 | 4 |
| Price | 1.399,- | 1.599,- |
Whether the extra $200 is worth it you must decide for yourself. With ability to handle 20 percent grade hills, you can get loose, the extra 3 km / h is not a big deal, and the extra rough grip tape on the Dual + is almost too rough for your fingers.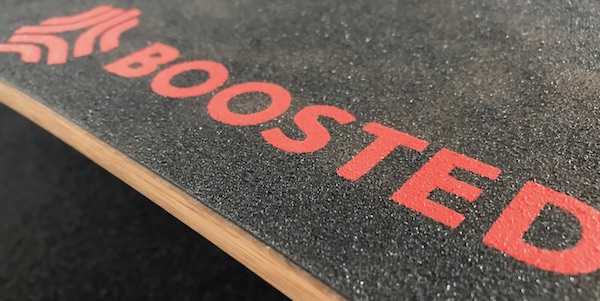 Boosted Board: How Did Casey Neistat Make It Through NYC?
But now to the interesting part: can a moderately talented skateboarder (having ridden a skateboard a few times for a few kilometers, minimal obstacles, two basic tricks) handle the boosted board (which is actually classified as a longboard) and dodge the masses, road traffic and buses?
Yes and no. Yes, because it is possible with enough practice. No, because it is forbidden in Germany. So you are confined to paths, little-used streets in front of the house and private property. That's it for the electric skateboarding romance. Nevertheless, this does not mean that the Boosted Board offers no potential for fun.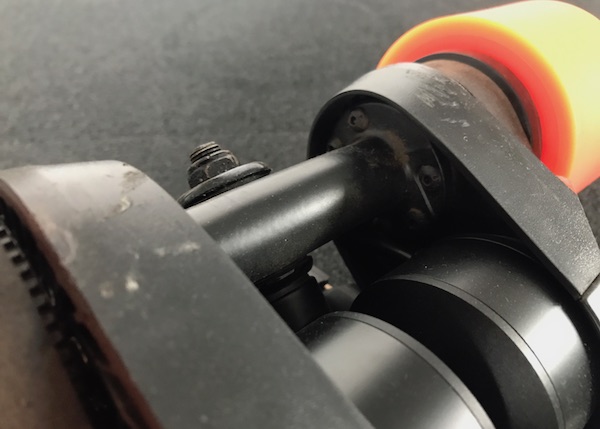 The Bluetooth remote control accelerates the board
So off to side streets. Here, I am on three kilometers of straight, well paved road with a gentle slope. My first attempts do not look very professional. Ever seen a beginner on ice skates? This is roughly what it's like – except without the help of a wall to grab on to when you start falling.
Under wobbly knees and swinging arms, the board moves forward – with a creeping, jerky movement. And yet you get the hang of it relatively quickly. The speed can be controlled with a small wheel on the remote control, which is connected via Bluetooth to the control unit under the boosted board.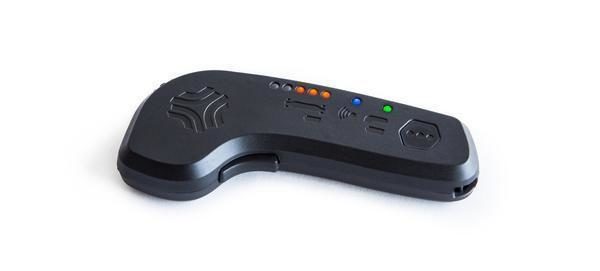 Forward – and the board goes forward; backwards and the board brakes. Once it's not moving, you can also go backwards. When you go downhill the battery even recharges– not very much, but it's still something.
But in order for something to happen at all, the small Engage button (the button under the Boosted logo on the picture) has to be pressed. If you get off the board and release the remote control, the board does not just continue. In addition, the wheels always jump back to the original position.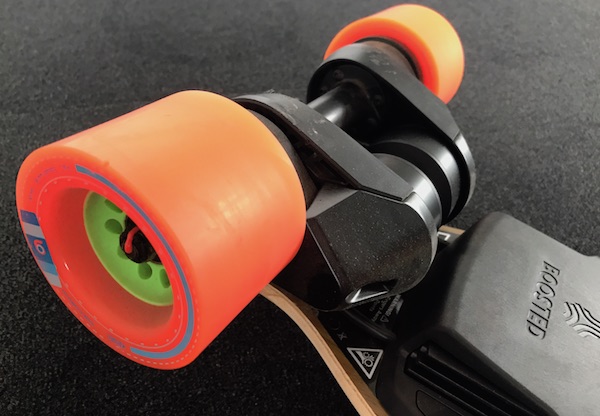 Boosted Board Dual +: 35 km / h speed
In the four different modes – from the beginner to the pro – you can vary the intensity and the maximum speed the boosted board can reach. For beginners, the beginner mode is absolutely recommended. There is no room for false pride: whoever goes too fast too soon will get hurt, with certainty.
You can switch between the modes either with the remote control or via a smartphone app. The app also offers a few statistics (distance, range, etc.). In Pro mode, the Boosted Board Dual + can go 35 km / h.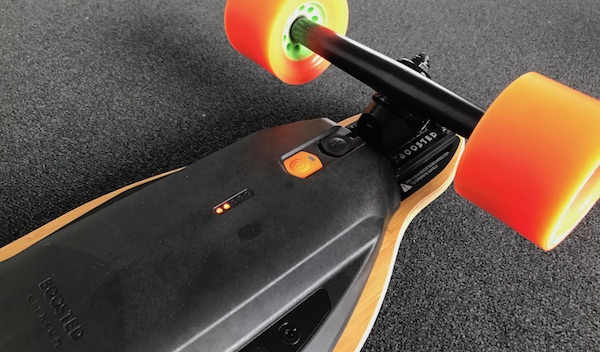 Boosted Board: a few weeds, falling, bloody back
In the car, 35 km / h is almost nothing, but imagine this speed when you are standing up with no support, only a few centimeters above the ground on a skateboard. The 35 km / h were never reached in the test – at about 25 km / h II cut things off – it was too fast and too dangerous, even with a helmet.
Whoever is on the Boosted Board for the first time should not be on the road. You hit one clump of grass and you'll fall and roll a few times on the asphalt. Both hands and both knees scraped up and back bloody, pants torn.
Accordingly, protective clothing is an absolute must! Not only a helmet, but hopefully also knee, elbow and wrist pads.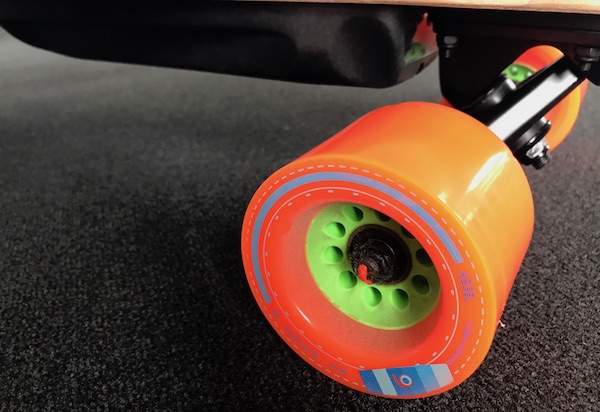 Conclusion about the Boosted Board: Fun, very dangerous, and lots of money
Otherwise, the boosted board makes for a crazy-good time. It can go 11 km before being recharged, while there is also an "Extended Battery" with double the range that will soon be available (from Q4 / 2017). The board is made of bamboo wood that can be bent almost to the ground – breaking  it is almost impossible.
The Boosted Board is also modular in design – but it takes tools and a little skill to exchange parts. Spare parts are available in the shop – also for a lot of money. In summary, the Boosted Board offers great fun, a lot of risk and costs a lot of money.
1,400 to 1,600 dollars is a lot of money for a toy. As a means of transport it would be okay – but here the relevant laws in Germany limit its use. You can order a Boosted Board here – shipping to Germany is included.