Earn money with Instagram: It's the desire of many influencers and opinion makers. However, it is not necessarily easy. Therefore, the social network is now testing new revenue features for Creator. But the new money blessing is not entirely altruistic.
"Finally!" is what many influencers are thinking. Because Instagram has announced it will introduce new forms of monetization for Creator. This means that influencers will have new options to make money on the platform in the future.
Instagram Live: Buy badges for Influencer
"Creators have always been at the heart of our community," writes Instagram in a blog post on the new monetization forms. This became especially clear during the Corona lockdown – and especially on Instagram Live.
This is exactly the channel that many influencers – from food experts to fitness trainers to artists – have used during this time to share their content, but also to bring fans together and encourage them.
The view rates rose accordingly by 70 percent. And while fans have so far been able to thank Influencer with likes, comments and donations, in the future it will also be possible to support Influencer directly via Instagram Live.
To this end, the platform is now introducing "badges". These appear on the right side of the screen and can be seen throughout the video.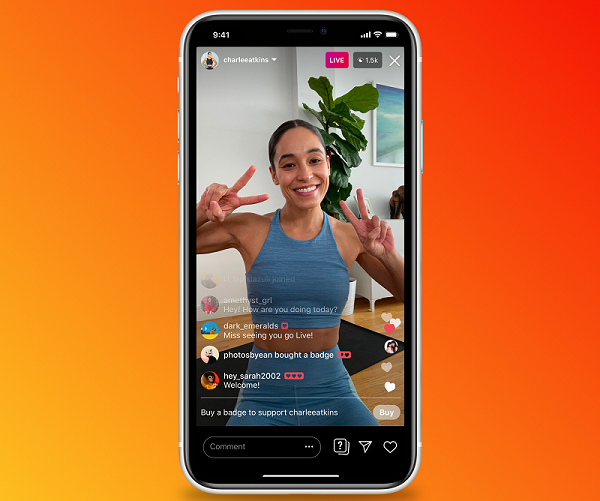 Spectators can now buy these badges for small amounts. Prices will range from 99 cents to 4.99 US dollars. These amounts go 100 percent to the influencers.
So far, the badges are only available in the USA. In the coming months Instagram wants to bring them to other countries, including Germany.
Earn money with Instagram: Generate revenue through IGTV
At the same time, Instagram for Instagram TV is testing new monetization forms for influencers. In the past, content creators have complained that the format hardly differs from YouTube or Tik Tok. With one exception: On IGTV, they couldn't make money from advertising.
This is exactly what is about to change. Longer videos will contain short 15-second advertising clips. Part of the advertising revenue (55 percent) will go to the influencers.
However, Instagram has not yet announced how long the IGTV videos must be at least to generate advertising revenue. The network is currently testing the new feature with only a small group of influencers in the USA.
This means that the photo platform is now offering its influencers additional revenue opportunities – and this only shortly after the introduction of Live Shopping. With this feature, influencers and brands can tag products so that fans can buy them more easily.
But not all influencers welcome the new measures.
Can the new offers be trusted?
Travel influencer Adam Groffman told Digiday that he doesn't really trust the whole thing.
He refers to Facebook's attempt to monetize videos. This started promisingly until Facebook changed its algorithm and the revenues suddenly collapsed.
He also criticises the fact that social networks and advertisers deliberately want to push video content through these forms of monetization. "For me, video is still a bubble," says Groffman. So he doesn't know whether he can trust the platforms and their revenue promises.
It's certainly not out of the question that Instagram will adjust its revenue rules over time. At the moment, however, the platform is certainly primarily interested in keeping Influencer. After all, they are the ones who generate content, generate engagement and make the social network so lucrative.
The new monetization offers are therefore certainly also a way for Instagram to bind influencers more strongly to its own network and prevent them from migrating to other platforms.
And the new features are apparently only the beginning, as Instagram announces: "We will find more ways to support Creator on Instagram."