Big Brother with a Phrase Book: Testing out Google Home
The smart speaker is now firmly integrated into my life and has helped to make my home more connected.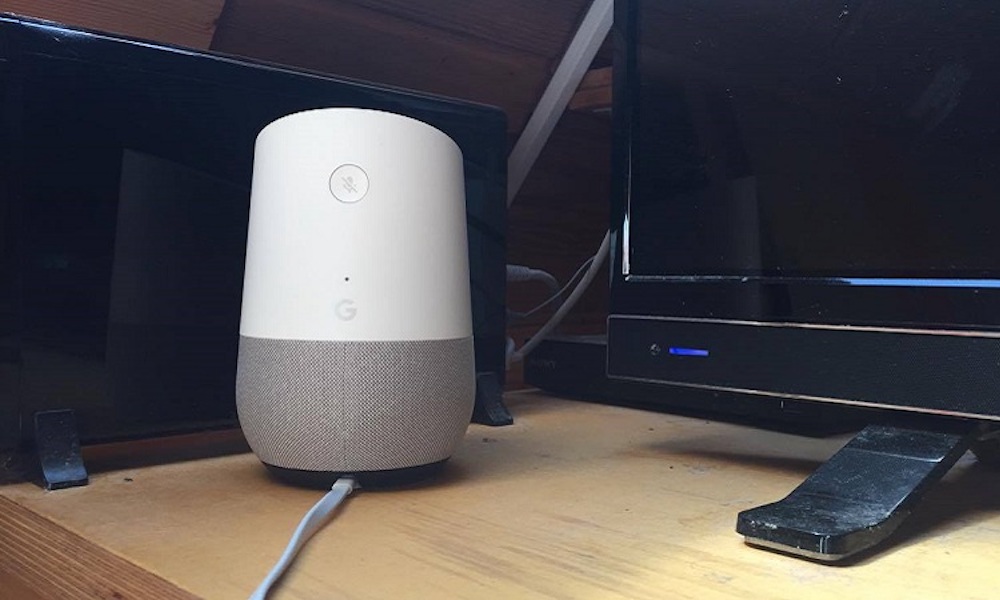 For a week, Google Home has been in my apartment. The smart speaker is now firmly integrated into my life and has helped to make my home more connected. Nevertheless, the technology is still in its early stages. It's time to draw a conclusion.
Although Google Home has only been in my apartment for a week, it has already changed location three times. From a glass table to a place on a wooden shelf to its present location, the place next to the TV, the smart speaker has moved a few times.
Regardless of its environment, the gadget has always suited its environment. Simple in appearance and pleasantly unobtrusive, the smart home device can be placed almost anywhere. The only prerequisite is a socket in the vicinity, because without electricity, Home won't work.
Setup and data protection
For me personally, setting up Google Home was a big step. Basically, I take care of my data and prefer to avoid giving it out too much.
What I noticed when installing the device is that if you don't share your data, Google Home is nothing more than a loudspeaker for music.
In order to use the other functions of Home, you must give Google access to your location and Wifi as well as grant access to data such as search history, browsing history, app activities, etc. You must connect your Google account to the device to use Google Home.
If you are not willing to do this, you won't be able to use the speak function of Home, since voice input doesn't work without complete access to your data. This also applies, for example, if one attempts to withdraw individual authorizations.
Conversations and artificial intelligence
Since testing a device without testing all its functionalities would be meaningless, I have declared myself ready to provide the necessary information to the Google gadget.
For this, after a little more than an hour of setup, I get a digital companion – Google Assistant. The voice of Google Assistant is friendly, but its language skills are still developing. What I already noticed in my first conversations with it, I have confirmed over the next few days.
Google Home and Google Assistant understand instructions very well and implement them reliably. However, it becomes problematic as soon as you deviate from the standard phrases. (The standard phrases and how to say them are listed in the app).
If you say "Ok, Google, I would like to hear Taylor Swift," it will answer: "Sorry, I can not help you yet." However, If you say the standard phrase, "Ok Google, play Taylor Swift," you'll hear the desired music.
This makes it clear that the first German-language version of Google Assistant is relying not so much on artificial intelligence as on a phrase book. The programmers have stored a lexicon of questions and answers which is called up in response to the corresponding key phrase. The key phrase is "Ok Google" – or alternatively, "Hi Google."
In order to not miss a command, Google Home constantly listens to its environment. To escape this eavesdropping, you can manually mute the microphones using a button on the device.
Features and compatibility
To start music (Spotify, Google Play Music, Deezer all in the premium version) or series (including Netflix and Google Chromecast) via Google Home, the corresponding accounts must also be linked to your Google account and the voice recognition of Google Home.
Google Home is able to dim the lights using smart lamps from Philips Hue, and its music playing abilities are relatively reliable. Even with loud ambient noise, Google recognizes my voice. The instructions are implemented – as long as I choose the right words.
Things are more problematic when it comes to accessing third-party services. As an iPhone user, I manage my daily routine via Apple's calendar app. I only use the Google Calendar professionally. If I want to know what is on my private schedule for the week, Google Home can't help. That's too bad.
In addition, the device seems to get confused when there are several speakers. After some of my friends had talked to my Google Home for  a while, the device was slower at responding to my voice.
Conclusion: Interesting gadget with room to grow
All in all, my conclusion about Google's smart speaker is that it still has room to improve. Google Home has surprised me some, and has simplified some processes such as searching for music or checking the weather forecast.
However, the smart-home skills could definitely be improved. If I want to dim my lamps in the living room, Home only offers a small repertoire of colors and options. With the Philips app, I can change the light faster and have more options.
The same is true for Spotify. Playlists are only played from the beginning. With Home, it's not possible to replay a song or start from a certain part of the playlist. This means I always hear only the first songs of my Playlist of more than 500 songs. Unless I pass the home speaker over my smartphone the appropriate start.
The range of functions and level of language comprehension are both at a very basic level. I would have expected more flexibility. These issues will, however, hopefully be solved in future updates.
All in all, Google Home is currently more of a smart speaker than a personal assistant. Personally, I'm also bothered by the fact that the device needs access to so much data.
This is why I can't currently say whether I will keep using Home and Assistant in the coming weeks. However, one thing is clear: Google Home will never find a home in the household of a privacy nut.
Inductive Charging: Electric Cars With Unlimited Range?
The fear of reaching out is still one of the biggest hurdles in selling electric cars.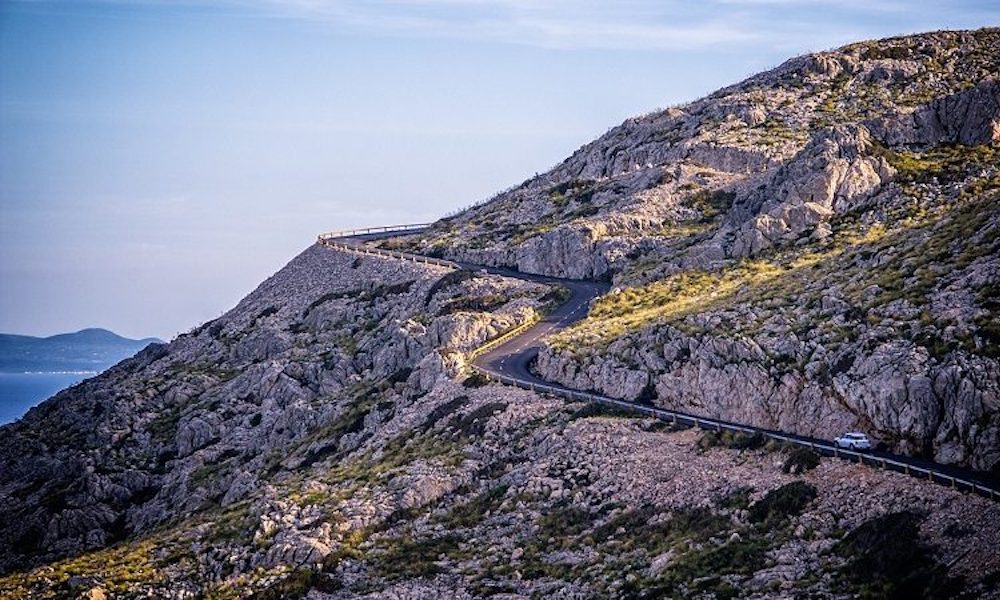 Whether justified or not, drivers are afraid that their electric vehicles might run out of juice in the middle of the road. Actually, the possibility of building electric cars with unlimited range already exists: via inductive charging.
Wireless charging, also known as inductive charging or wireless energy transfer, could help electric mobility to make a breakthrough. Many car manufacturers and suppliers, but also research institutes and start-ups are currently working on this technology.
Review Physics Lesson
Most of us are familiar with the principle of inductive charging from the household, from electric toothbrushes, to induction stoves and mobile phones. An object is supplied with power without cables. In fact, this is a wireless near-field power transmission.
Flashback to physics class.
Near-field means: the transmission of energy is carried out via a magnetic flux and differs from transmission in the far-field, which is based on electromagnetic waves (see light and radio technology).
But back to inductive charging. The whole system works by means of two coils positioned at a certain distance from each other. Coil number 1 generates a magnetic field by current. This magnetic field ensures that coil number 2, or the "pickup," can take this current. The current is thus induced.
Old technology, new approach
Now, you might be asking: wait a minute, if we know all this from physics lessons, what is so innovative about it?
The question is not unjustified. The principle of induction was finally discovered 200 years ago by the British scientist Michael Faraday.
The scientist Nikola Tesla (born in what is now Croatia) is also often referred to as a pioneer of this discipline since he invested a great deal of money in technology at the beginning of the 20th century. But he never made the breakthrough and was quickly forgotten. Until a certain Elon Musk started using his name and visions for himself.
But while Nikola Tesla tried to induce electricity from the earth's atmosphere with huge towers of ions and electrons, today's approaches to electro-mobility are more down-to-earth – in the truest sense of the word. Scientists, car manufacturers and suppliers are working mainly on two methods of induction: inductive charging via stationary pads and inductive charging while driving across the road.
The charging plate with the paw sensor
In order for the wireless charging of electric cars to work, the vehicles must have a coil in the underbody, typically in the front axle area. Why right there? To ensure that the distance to the charging station (on the road or on the garage floor) is as small as possible. The closer the two coils are to each other, the more efficiently the energy transfer works. For an electric car like the BMW i3, this means that the ideal distance between the two coils is 100 to 140 millimeters.
BMW in particular relies on this technology and is currently using it in all its i-series vehicles, albeit still in the prototype stage. BMW is working with Qualcomm, a chip manufacturer from the USA. In Formula E, the technology is already being used for pace cars or safety cars.
The pallet Qualcomm has developed for Formula E and will soon be made available to the mass market is called "Halo," which works in any wind and weather and also incorporates a Foreign Object Detection feature. This is a safety sensor that can detect foreign objects – from the paper clip to the dog's paw – and then automatically interrupts the charging process.
The first models with induction charging technology from German car makers, including BMW and Audi, are to be launched on the market in 2018. Finding public charging pads and the charging itself could be done via the smartphone or a special chip card.
Snack charges of everyday life
Sweden is already one step ahead. Volvo has already successfully completed the development of such a charging pad. The garage pad is to be included with the Volvo C30 Electric to make charging quicker and easier. Some models will be able to charge the battery fully by induction in up to one hour. With the E-Smart, charging could even take as little as 45 minutes.
The idea of the loading pads is not only intended for the domestic garage, but also for charging while parked. For example, the electric car could be charged while you are shopping or sitting in the waiting room at the doctor's office. It is precisely this bit by bit charging, the "snack charging," that is supposed to be better for the battery. Audi employee Björn Elias says: "The short cycles are the best thing that can happen to the battery: the lower the charging thrust, the longer the life expectancy" – this may sound good from the point of view of a car manufacturer who is betting on induction charging for electric cars. In fact, opinions on whether this is true or not differ somewhat.
However, one thing is certain: unlike the superchargers, short charging cycles do not damage the service life of the batteries.
Early tests show that charging while driving works
While car manufacturers are concentrating on the charge pads, various research institutes, as well as governments and start-ups, are working to enable inductive charging on the road while driving.
For example, the Fraunhofer Institute for Manufacturing Technology and Applied Materials Research (IFAM) in Bremen has built an electric sports car in which the battery is charged while driving. Artega 1 is the model, with 424 hp. The Artega 1 was driven for the first time in 2015, at 30 kilometers per hour on a 25-meter test track. Coils for charging were installed in the roadway. In their test, the researchers successfully demonstrated how the electric sports car could be harged while driving.
But of course, this is only the beginning. The aim is to be able to use the technology at full speed. This dynamic induction requires that the installed coils be switched on and off in the correct rhythm. For the method to be used nationwide, the entire road infrastructure would have to be converted.
Not cheap, but not too expensive, says Felix Horch, head of the Electric Drives department at IFAM: "The construction of a motorway kilometer would be more expensive overall thanks to induction technology, but the costs would certainly not multiply. It's a fundamental infrastructure decision: at some point in time, it was decided to electrify the railway network."
England's example shows that this could well be a sustainable project. Highways England, the state motorway operator, is considering testing the method on an electric highway for 18 months.
In France, Renault and Qualcomm have also demonstrated that charging can work while driving.
Earn money with "solar streets"
But why not rely on solar energy for dynamic inductive charging? The Potsdam-based start-up Solmove is working on this. With the concept of a solar street, the company wants to use the streets in two ways.
This means that existing traffic routes can be upgraded with stable photovoltaic modules and thus not only electric cars, but also e-bikes and even trains can be charged. In addition, the electricity generated in this way could also be fed into the municipal energy grid. Cities could earn money from it and thus finance the rehabilitation of their roads. This, at least, is Solmove's idea.
However, the solar roads must be horizontal surfaces. Solmove says that in Germany, 1,400 km² are still suitable for this purpose. This could supply 20,000,000,000 cars with electricity.
Large buses, small batteries
Tel Aviv already has the world's first electric road. The Israeli start-up ElectRoad is testing these mainly for public transport. The theory: induction charging makes it possible to operate the large buses with smaller and lighter batteries. That could save a lot of money.
In Germany, too, there are some early projects in public transport with wireless charging, but not for charging during the journey. Rather, they rely on charging pads. For example, the electric buses in Braunschweig, "Emil" (short for "electro-mobility by means of inductive charge") have been using induction technology to charge their fleets for several years now.
Inductive charging for electric buses has also began being tested in Berlin in 2015.
The clear advantage: endless range
But why all the trouble? What does inductive charging offer that charging with cables doesn't?
First of all, wireless charging is more convenient for users. You don't have to handle cables in a cumbersome way. In addition, in some cases, inductive charging is up to 85 times faster than charging via the home socket.
If we look at inductive charging while driving, the advantage is obvious. If the car can recharge while driving, the electric vehicle theoretically has an unlimited range.
In fact, the development of this technology is a bit more challenging than the charge pads. Finally, it must be ensured that the coils switch on and off at the correct distance. And all this at full speed, at different speeds. In addition, it must of course also be ensured that the magnetic field on the roadway is harmless to humans and animals.
An alternative to the ground coils could be inductive charging via overhead lines. Siemens wants to implement this on motorways for trucks – a world first. The Group has been awarded the contract for the construction of such an e-motorway for test purposes by the relevant authorities in California. While this can still be reasonably imagined for trucks, it is unlikely that car manufacturers will suddenly build models with pantographs on the roof.
It is therefore interesting to see which forms of inductive charging will be used in the future. But Thomas Nindl of Qualcomm's Munich office is probably right about one thing:"Our children will lose the word 'refuel' from their vocabulary."
Austrian Electric Car "enjoy" Comes From 3D Printer
"enjoy " is the most recent example of a car that comes from a 3D printer.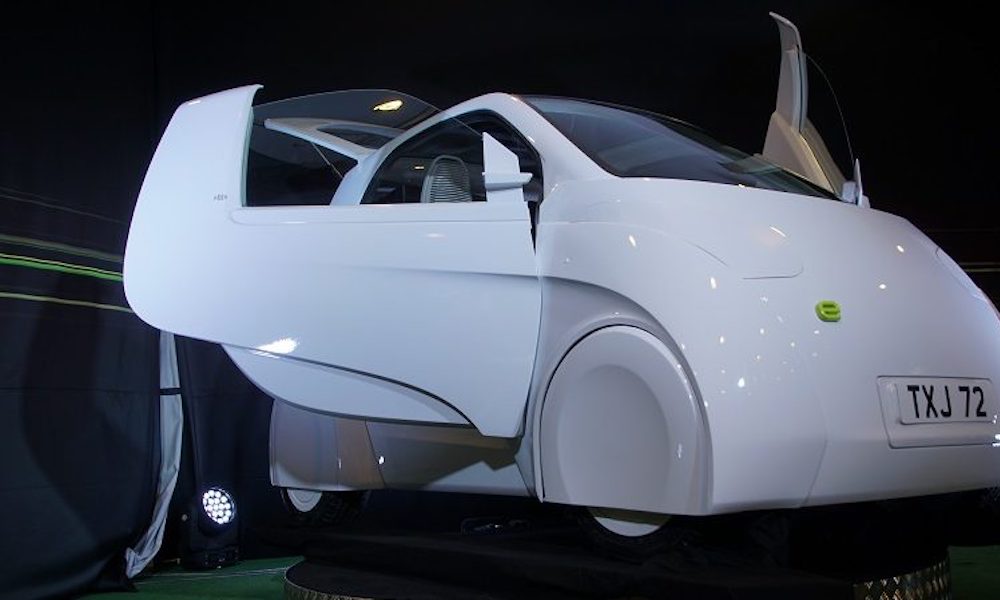 The electric car was developed in Austria with a printable solar casing and is due to be launched on the market soon. Even more bizarre: behind the futuristic car is an economic consulting service.
Roman Haslauer is a man who doesn't like to wait for things to happen. He'd rather take things into his own hands. For example, the 62-year-old business consultant and managing director of the business consulting company GFB from Pinzgau in the province of Salzburg, Austria has developed an electric car that can be 3D printed. His vision is called "enjoy" and is set to be launched on the market soon.
"In itself absurd…"
Haslauer doesn't just come up with such an idea out of nowhere. For many in Austria, he has been regarded as a pioneer in the field of e-mobility. For example, he has set up a nationwide charging structure for electric and hybrid cars. The "Solar Route" is 600 kilometers long and has over 30 charging stations.
Now he has decided to go one step further and develop his own vehicle. It is absurd in itself that an economic consultant would build a vehicle, but with the current technologies it has become relatively simple. "The industry is far too slow and far too sluggish. It will only act when it comes under existential pressure, i. e. when the penalties become too great," he said in an interview with Salzburg 24.
3D printing with solar lacquer: Car charges itself
Haslauer has worked together with 26 specialists on the implementation. In fact, enjoy is not only unconventional in technology and design, but also in the materials used. The four seats of the car are made of wood from the region and covered with deerskin.
Haslauer deliberately wanted to use materials that could be broken down quickly in nature. Under the motto "Simplify," construction work was greatly reduced. enjoy has, according to GFB, only 1200 instead of the usual 6500 parts, thus 80% fewer parts. The prototype weighs 800 kilograms, and the battery adds another 150 kilograms.
While the internal parts have many sources, the outer shell comes entirely from the 3D printer. Haslauer would like to use a special solar lacquer for this purpose. The enjoy could generate electricity either while sitting or driving. How this should work in detail, however, still has to be worked out. Data on range, loading time and speed are also to date unknown.
However, one thing is already clear: enjoy has "invisible" wheels, something that the company has patented.
Only for sharing models
In addition, keys are required not for enjoy. The car will be opened and started by retinal scan and fingerprint. Up to 25 people can be registered for use of any one vehicle. All of this is "coming soon." Up to 100 models are to be produced per year.
However, this also makes it clear that enjoy is not intended for private ownership. Only mobility providers will be able to have and use the vehicle. Haslauer also wants to reduce the number of cars and "force" consumers to use sharing models. Drivers should only be able to use and pay for the enjoy when they actually need it.
Mellow Boards Surfer Tested: The German Challenger
Last week we introduced the boosted board – the "influencer" under the electric skate and longboards. Today we dedicate ourselves to the German challenger – the Mellow Board Surfer.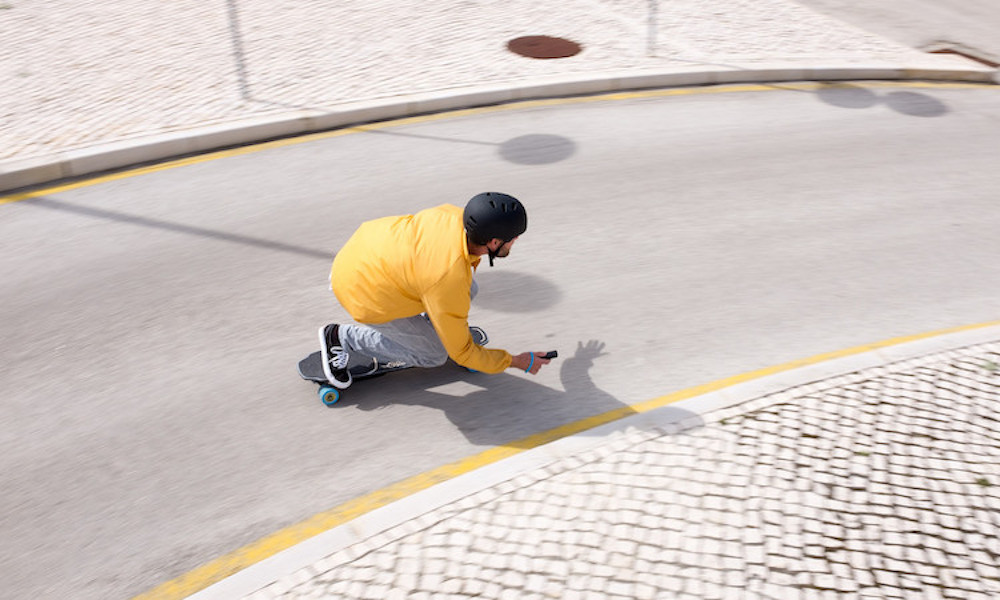 The basic principle is always the same for all electric longboards: moving and braking are done using a remote control which is connected to the control unit and the motor under the board via Bluetooth. The Mellow Board Surfer does not differ very much from its competitors.
Features
Included in delivery is the fully configured board including motor, battery pack, remote control, wrist strap and charging cable. Why "fully configured"? Because Mellow Boards also offer a set to convert any longboard or skateboard into an electric board. This is called Mellow Drive.
But we are mainly interested in the Mellow Board Surfer. Let 's take a look at the important data and facts – all important specs are listed here:
| | |
| --- | --- |
| Specs | Mellow Board Surfer |
| km/h | 40 |
| Distance | 12 – 15 km |
| Slope | 20° |
| Charging Time | 3.5 hours Std. * |
| Weight | 3.9 kg |
| Modes | 4 |
| Price | € 1,999 |
* Quick charge possible: 45 minutes
Mellow Board: Replaceable battery pack
€ 2,000 for an electric skateboard is quite a lot – and 400 euros more than the electric board from Boosted. The Mellow Board Surfer offers some advantages – for example, the distance it can reach is almost twice as great.
In addition, the battery pack can be replaced within 30 seconds and without tools. With a replacement battery and a large power bank, you could then reach almost 45 kilometers (after 15 km, put first battery pack in your backpack and recharge by Powerbank, use the second rechargeable battery pack then after 30 km, the first battery pack is ready to go again).
Mellow Board Surfer: Easy and fast
In addition, the Mellow Board Surfer is significantly lighter (6.8 kg vs. 3.9 kg). This is noticeable during transportation, although the Boosted Board is more protected. The 5 additional km / h top speed is not important. You'd have to be a little crazy to go the top speed of 40 km / h anyway.
However, the Mellow Board Surfer does not do as well with bumpy surfaces – it is significantly stiffer. So, you tend to feel the bumps more. In terms of appearance, the light blue of the board looks funky, cool and summery, but at the same time, it also looks cheap – like a toy.
The steering takes getting used to
The rubber covers on the battery pack, which can prevent water from entering the charging port and dust from getting into the remote control, are so solid in our test we could not get them out without tools. On the one hand, this creates a high degree protection, but it is also enormously annoying.
The remote control does not offer as much control as the small wheel of the Boosted board. Here, Mellow Board has used a sliding mechanism that seems less precise and requires more getting used to.
A responsible product
However, Mellow Boards show much more of a sense of responsibility than others in one way: the pro-mode can only be activated after 30 kilometers of distance traveled.
For someone who could not sleep for several nights because of injuries from trying out electric longboards, this is great! However, for professionals, this could be annoying.
By the way, the distance, modes and other features can be adjusted by means of an easy-to-use app. Very nice.
The ride experience
But now about the ride experience. Here, the Mellow Board proves mediocre – for several small reasons which significantly reduce the pleasure of driving. You feel super safe on the board, the deck has a comfortable size, the grip is great and the acceleration is very precisely adapted to the individual modes.
But: you always have to push the board to be able to start it. According to Mellow Boards, this protects the battery and makes it safer. This may be true, but it's no fun. This is like having to push your Tesla before it starts. Sure, we're just talking about a few steps, but it's still annoying.
This is especially true when maneuvering. For example, if you want to take tight corners or avoid obstacles. Also, the Mellow Board can't reverse. So, if you want to turn around, you have to get off and turn the board by hand.
Conclusion: Big price for high performance
At € 2,000, the Mellow Board Surfer is on the pricey side compared to other electric longboards. This can be seen as a result of factors such as its range, weight and modular design. In terms of how fun it is, it still leaves some to be desired, but this could be improved with small adjustments by the manufacturer.
If you want to convert your current longboard, you will find in the Mellow-Shop the modular pack for € 1,699, an additional battery pack (which you do not need for distances up to 15 kilometers) is € 249, and there is another minor variant, the Mellow Board Cruiser, for just under € 2,000.
Further information and purchase options are available on the Mellow Boards website.