Launched in 2012, the Hövding turned the concept of the bicycle helmet on its head by using a compact collar-mounted airbag that inflates in the event of an accident. The company producing the Hövding claims to this way provide three times more shock absorption than conventional helmets. Plus, it's simply more comfortable to wear, which is a big plus for someone like me who's otherwise not a huge fan of helmets.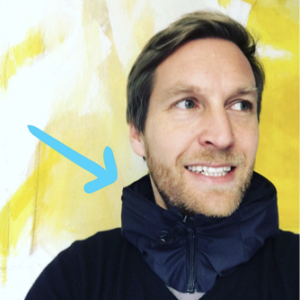 To date, more than 50,000 Hövding airbags have been sold around the world, and the company says it is "aware of at least 800 cases where the Hövding has protected a cyclist in an accident, potentially saving the cyclist's life."
Getting the Hövding to work was easy. After unpacking the box, I had to charge the battery (it lasts about 10 hours, even a little better than what the company claims) with a standard cell phone charger. The charger was not included in the package, but I guess, just like me, everyone has one at home from some old Android phone.
To use the Hövding, you simply put it around your neck, close the zipper with a button which also  – conveniently – acts as the on/off switch. I actually found that to be quite a smart element of product design.
The comfort of wearing it varies a lot depending on the jacket. With a heavy winter jacket, the triangular compressor unit on the back doesn't feel super-comfortable (though still better than a regular helmet), while without a heavy jacket, it's totally comfortable.
Safety record
After all, what's probably most important is the actual safety record. It's kind of hard to test, because the Hövding is only usable once. If it ever is used in an accident, you have to purchase a new one (the company offers a replacement for £ 99, so less than half of the original price, if you exchange your Hövding after an accident).
There are a couple of YouTube videos of people 'testing' the Hövding, and one famous and quite funny German TV show (check out minute 5:40).
And this is what the inflated Hövding looks like: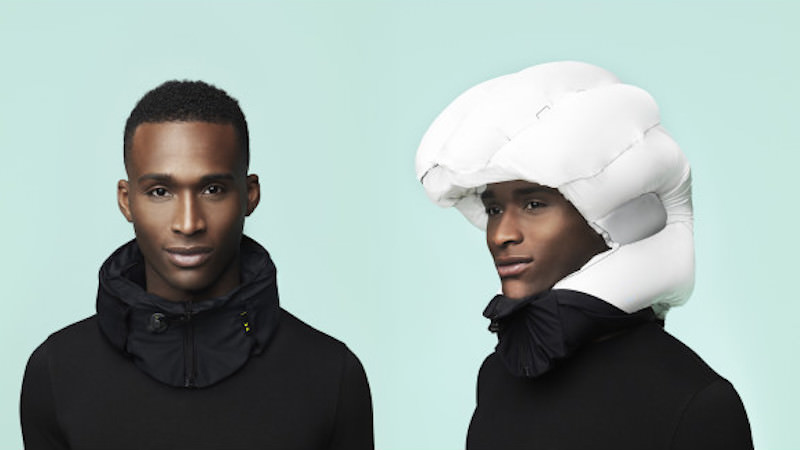 So it seems to work… and adding even more credibility, I found this recent Stanford University study of bicycle helmet design, called "Modelling and optimization of airbag helmets for preventing head injuries" (2016).
It concluded that the Hövding cycling airbag is 'near perfect' in terms of protecting against head injuries caused by road cycling accidents.  It further said that
"there is an eight-fold reduction in the risk of concussion with the Hövding airbag compared to traditional helmets"
Reason: Most conventional helmets are made of extended polystyrene (EPS) foam with a thin plastic shell.
In contrast to a traditional helmet, when turned on a Hövding records the cyclist's movements 200 times a second.  In the event of an accident, the cyclist's abnormal movement is detected and the airbag fully inflates in 0.1 seconds.  Crucially, the airbag will protect both the head and neck covering a much larger area than a traditional cycle helmet, therefore minimizing harmful impact. Stanford University directly compared the EPS foam helmet to Hövding.
The study tested both designs in a simulation of the most common cycling accident – a single fall.  Stanford replicated accident scenarios with varying head impact velocities of 2 and 9 meters per second, both of which are common head impact speeds for bicycle accidents. At peak accelerations, these airbag helmets achieve up to an 8-fold reduction in the risk of concussion compared to standard EPS helmets.
Would I recommend it?
I like the product, and it seems well made. I trust it, and I will continue to use it. Is the price tag hefty? You bet (see below). But then, even with a small chance of an accident, to me, the Hövding is absolutely worth it. I can only hope that the price will come down, so that more people will be able to afford it in the future.
How to buy it?
Hövding's airbag helmet for cyclists is already on 17 markets in Europe and in Japan. It is being sold in over 800 shops and online for around € 299 and £ 219. It's not officially available in the US, but I am sure you can find someone willing to ship it over, if you want.