Instagram continuously adjusts its algorithm. In most cases, we don't notice anything about it, and only rarely is there any concrete information. We'll tell you what you need to know about Instagram's 2021 algorithm – and which alleged cheatsheet is wrong.
Most articles around Instagram Algorithm 2021 tell you that it's important to post regularly, interact with your community, and figure out the perfect time to post. While this is certainly all true, it has no specific relevance to 2021.
Instagram Algorithm 2021: New Rules for Reels
However, there are definitely some changes that matter to you as an Instagram user, influencer, and social media manager. The crucial difference is that this information comes directly from Instagram and therefore has a sound basis.
The first big change to Instagram's 2021 algorithm involves Instagram Reels. The Tik-Tok clone still hasn't gotten rolling half a year after its launch. Even Instagram CEO Adam Mosseri is unhappy with the format.
That's why the social network is now going on the offensive. Specifically, Instagram is pursuing the goal of improving the user experience. Primarily, this is done by the Instagram algorithm rewarding certain videos with less reach in 2021.
Tips for the right use of Instagram reels
In doing so, Instagram actually gives concrete clues for creators and social media managers. Accordingly, the following videos or reels are affected by the reduced reach:
Blurry content
Content in poor resolution
Content that contains logos or watermarks from other apps. These include Tik Tok and Snapchat, for example.
Videos with a delimiting frame
Videos whose visual content is mostly covered by text.
Instead, Instagram recommends that its users post vertical videos. Ideally, these only contain music available in Instagram's sound library or within Reels.
Instagram also rewards accounts that "set new trends" and let others share them. This can be in the form of entertaining or funny content or crazy dances, for example.
What is the goal of the 2021 Instagram algorithm update?
The answer to this question is clear: Currently, many content creators use Instagram exclusively as a secondary exploitation platform that generates additional reach and increases awareness. However, as a result, the quality of the posted content is usually poor.
In turn, the user experience suffers from the poor quality of the reels, which in turn affects Instagram's image.
To counteract this downward spiral, Instagram has now given its algorithm an update. For creators and social media managers, the changes mean more work. Those who continue to only second-guess their content will likely notice declining reach numbers.
However, there are already tools that allow creators to remove Tik Tok's watermark and logo.
No "Super Like": Instagram cheatsheet is wrong
And a myth that has been circulating for months has also been officially disproved since the beginning of February 2021. Specifically, it's about the following graphic, which many influencers and supposed Instagram advisors share in their Stories and feeds.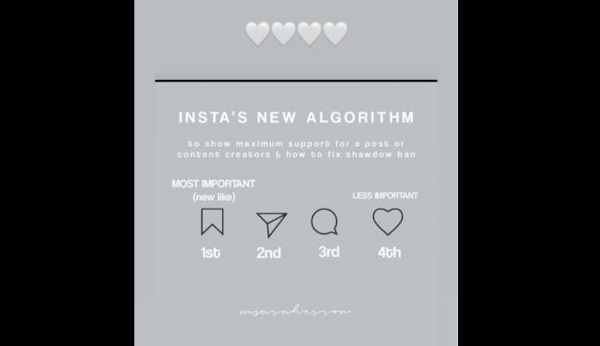 It suggests that saving a post is the most important currency for the Instagram algorithm in 2021. It is a "Super Like" so to speak. Direct Messages then follow in second place. Only then come comments and finally the conventional Likes.
To this end, Heiko Hebig, Partnership Manager at Instagram and self-proclaimed explainer, says in a post on Facebook: "There are no new algo-something and the infographic is a fairy tale."
Specifically, this means that of course it's not bad at all if your fans save your posts, send them to friends, comment on them or like them. Any interaction or action that triggers value is beneficial.
However, there is no demonstrable evidence for the corresponding infographic. Just because posts that are saved often have a higher reach, there is no causal relationship between the two factors. It could also be that posts with high reach are simply saved more often.
So rather than trying to crack the Instagram algorithm, you should focus on presenting your users with more valuable, unique, and high-quality content. That way, with enough patience, you'll always be successful on Instagram.