The city among us shone golden. I could see jagged edges at their spurs, where the lights increasingly blurred into one another. The exits of the metropolis formed a bizarre pattern here, which lost itself in the nightly darkness of the sea. But unimpressed by the darkness, the numerous lights continued to sparkle as if they were performing a welcome dance especially for us. Welcome to Doha!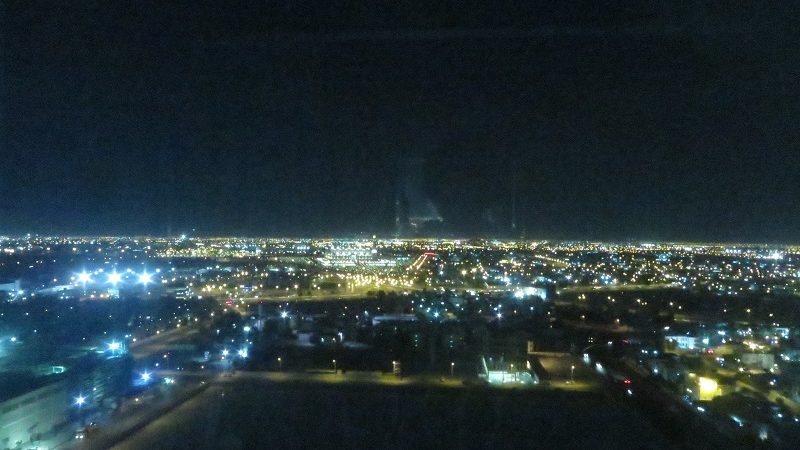 It was midnight and there was a lot of activity at the airport of the capital of Qatar. The romantic lights of the city had been replaced by bright LED lights in a modern building. A mixture of tourists in flip-flops, men in white robes and women in black dresses romped at the immigration desk.
We paid for our entry visa (approx. 27 Euro for a 30-day stay), picked up our backpacks and thought longingly of our bed, when we were suddenly interrupted by a loud peep about us.
Before we knew where the noise came from and what was beeping, an official stood next to us and waved a piece of equipment at our backpacks. He looked at us seriously and said,"You have bottles with you."
Doha: "Is that alcohol?"
It is not a crime in itself to carry a bottle in its checked-in baggage, but it is a crime – at least in Qatar – if it contains alcohol. The majority of the Salafist-Muslim country tolerates the consumption of alcohol, but a special permit is required for this, which is supposedly not to change even for the 2022 World Cup.
Tourists, in turn, are completely prohibited from importing alcoholic beverages. For intermediate landing ends, however, alcohol can be deposited in lockers at the airport and picked up again on departure.
So we were quite relaxed when my friend opened his backpack and showed some souvenir bottles of ouzo and raki. The officer frowned. Suddenly, he was all upset and ripped a plastic bottle out of my friend's backpack:"What is it?"
We had decanted our whiskey into an apple juice bottle to avoid having to transport so much glass. The officer smelled the bottle. "Is that alcohol?" We confirmed that. The officer shot away and came back a few minutes later. "I'm sorry, this bottle has been opened in advance, and there's obviously an attempt to deceive."
Trying to deceive you? I raised my eyebrows. My friend gave me a warning look. This really wasn't the time to unpack my sense of justice. So I kept quiet when the officer confiscated all our bottles without further ado. Welcome to Qatar.
Taxis like luxury sedans
As soon as we approached the airport, it was clear to us that this is not a poor country – and everyone arriving here should see it. We looked at ultra-modern streets, glass buildings and taxis that looked like luxury sedans. Luckily we had found a couchsurfer who could take us in for our night in Doha, because otherwise the "cheapest" hotel room costs about 100 Euro.
The drive to our hostess was like a thousand and one nights 2.0: white "lobster" and chic sports cars rushed past us on the expressway. The roadside was lined with palm trees, which stood militarily in rank and file.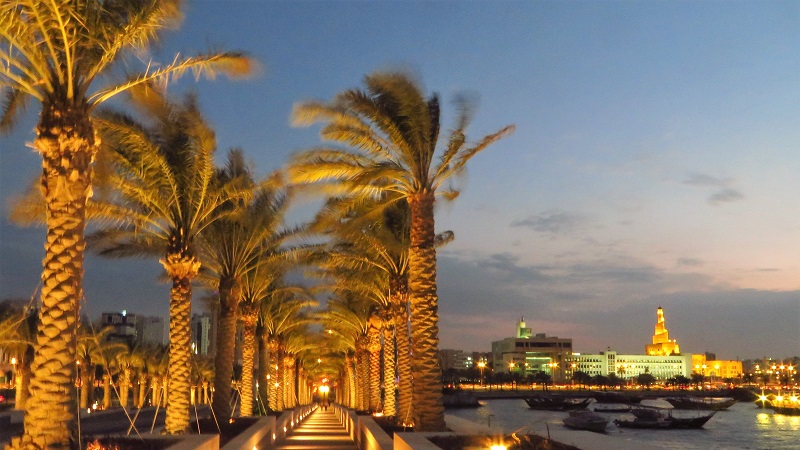 In the distance, we were able to identify luxurious shopping malls. We were now in the midst of the sparkling lights we had seen from the plane as the driver drove to a fancy apartment building. We had arrived.
Our hostess had given us all the input codes and very precise instructions on how to get into the high-security building, because by now it was two o' clock in the morning and she had already gone to bed. So we actually fell only on the soft mattress into a deep sleep. Good night, Doha.
The morning after
The next morning we inspected our surroundings for the first time. The apartment was huge, modern and had an impressive view of the skyscrapers of the city. Our hostess had kindly left us a lot of tips to make our short stay in Doha as interesting as possible. We were ready to explore the city of oil multinationals, expats and the future World Cup.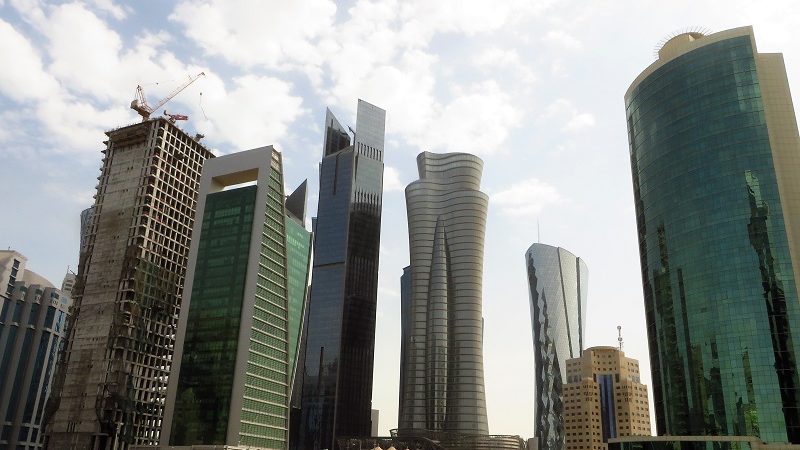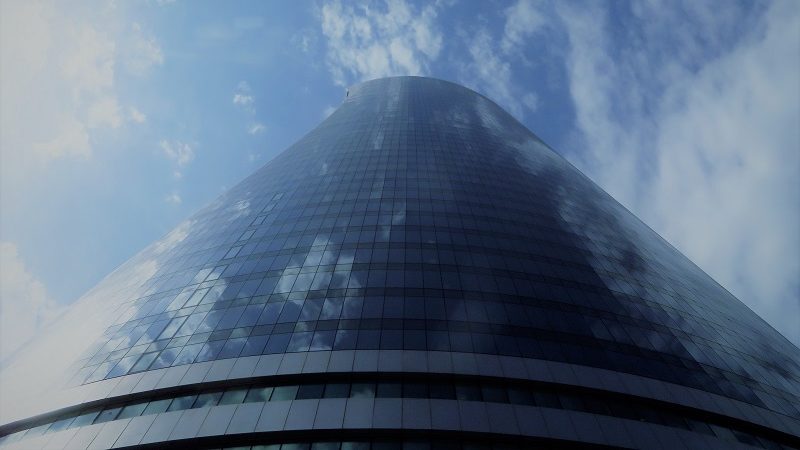 After seven months of European travel, the imposing buildings in Doha seemed unreal to us. Only the sandy wind reminded us that we were actually in the middle of the desert. On the sidewalks expats rushed to their offices, on the streets hordes of white cars drove through the densely built-up city centre. We decided to walk along the sea promenade, the Corniche. A fatal idea!
The price of modernity
Because no one, really nobody in Doha is running. Not only because the distances are long, but also because even at the end of November the sun is burning relentlessly.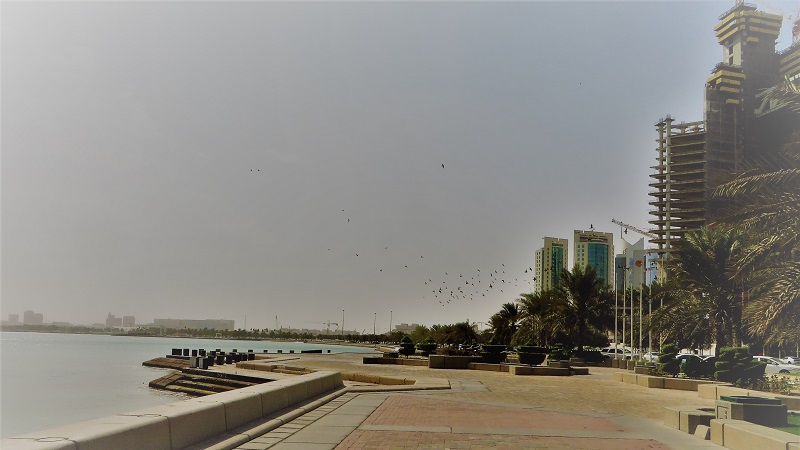 Nevertheless, it was an incomparable way to experience the city. We saw light green golf courses sprinkled with small nozzles. We saw wall paintings that warned the Qatari people not to eat unhealthy American fast food.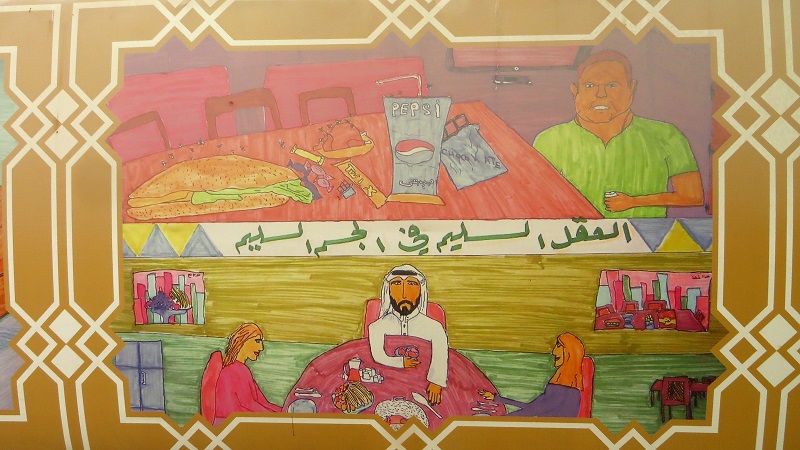 And we saw – sadly – hordes of tired looking South Asian workers, who were either carted out of special buses to the workplace – or back.
The Kataris make up only about 12 percent of the country's population, while workers from Nepal and India account for over 40 percent. They represent the country's massive growth and the country's continuous need to build. Unfortunately, they are often treated little better than slaves by the locals and the sight of these depleted men reminds us of the price that Qatar's rapid growth demands.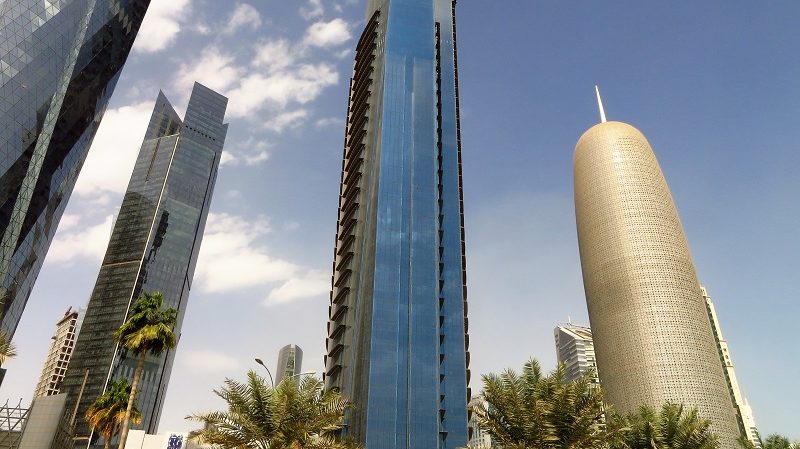 Nevertheless, or perhaps precisely because of this, the country is very progressive, at least as far as Western expats are concerned. Women are recommended to cover their shoulders and knees, but there is a relatively high tolerance towards the customs of "foreigners" (even if homosexuality is "forbidden").
Kataris have realized that they can move their country forward faster with the expertise of these people. They want to lure Western experts into the country not only with their tolerance but also with strong financial packages to long-term employment contracts. As a day tourist, however, this is only marginally noticeable.
Tamed bazaars and a palace for dinner
At least we were more concerned with processing all the strange impressions. A beautiful place for this is the Museum of Islamic Art, which has the form of a veiled woman from the outside.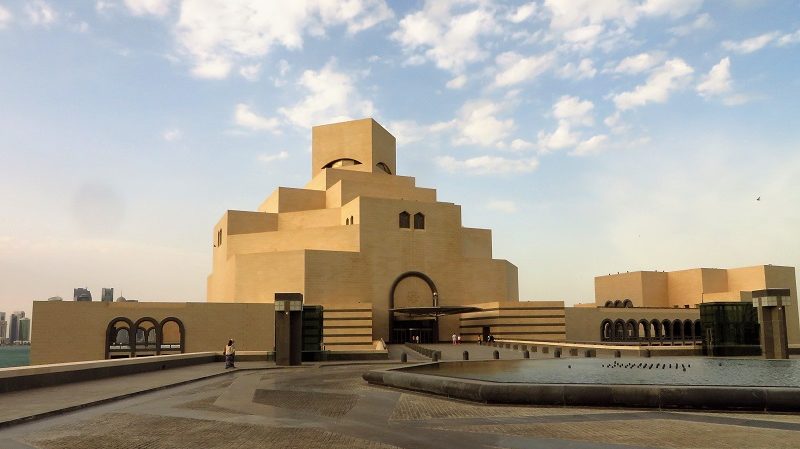 Here you can immerse yourself deeply in the history of Islamic art and recover a little bit from the noisy modernity outside.
Afterwards, we were ready for the big bazaar. But although we had expected similar chaos as in Turkey or Morocco, we got to see the "tamed" form.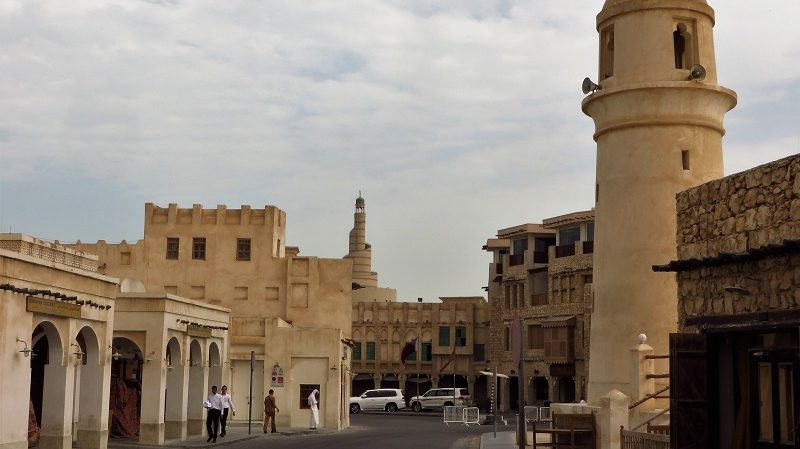 Everything was full of cleanliness, nobody seemed to scream, and there were even arrows pointing the way. We drifted through the well-ordered alleys and ended up in a kind of street spectacle. Unlike Muscat in Oman, Doha – despite the many whites – is colourful and lively.
For dinner, we met our coffee-surfing hostess in an Iranian restaurant, which reminded me more of a palace with all the glitter and mica. She told us that the Kataris love to eat in the city centre and that this is why there would be almost everything from Italians to Thais, what the palate would like to eat. And all this in excellent quality!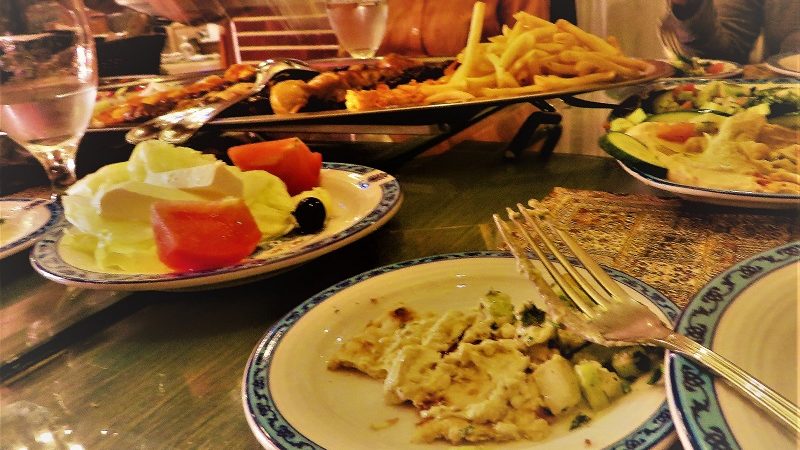 We couldn't get enough of the delicious food – maybe it was the hunger after an eight-hour walk in the sun of Doha.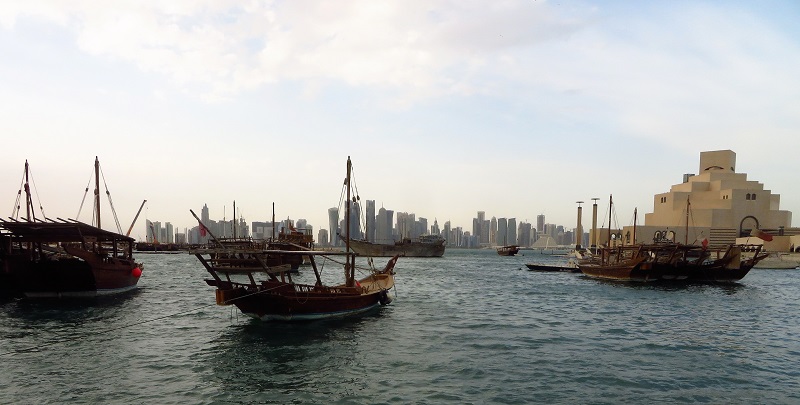 See you soon, Qatar
After that it was unfortunately time to drive back to the airport. Our 26 hours in Qatar's capital came to an end. It had been nice hours, hot hours and definitely hours in which we had seen a lot of new things.
When our plane rose again over the city, the twinkling lights beckoned us to say goodbye. Goodbye, Doha!