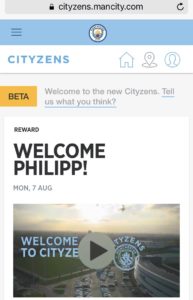 On August 7, the club launched the new platform "Cityzens". Man City has integrated the platform into its website. It was developed to improve interactions between the fans and the club.
One of the most important tools to bring the fans together is the community map function. This allows users to talk to other supporters and share their location.
Thanks to the user data City will implement targeted targeting measures. Throughout the world, fans are specifically encouraged and rewarded for their commitment. International fans can enjoy trips to Manchester, while fans in the UK can even get to meet the team– for real fans, an invaluable experience!
Personalization of the platform is a core goal of "Cityzens." In this process, Man City collects fan data including location data, demography and social interactions. On this basis, unique content and experiences are created.
If you register on the platform, you will see personalized videos of coach Pep Guardiola or his players. Registered fans are rewarded for certain milestones such as extending their season ticket for the tenth time in a row, or visiting every season, or wearing their City jersey all over the world.
"Cityzens" intensifies the fan experience
Fernando Soriano is Chief Executive Officer of the City Football Group. In his opinion, Cityzens will revolutionize the way the club interacts with its fans. "Our job is to bring people together and make their lives more enjoyable through football. This technology helps us to do so on a global scale," says Soriano.
"Smart data will enable us to really understand and react to the behavior of our fans. We connect and activate even more fans than ever before in an authentic and meaningful way."
Add-ons are also available for fans who want to participate in interactive games on the match day. You can tap for results, predict the lineup, or vote on the player of the game.
Focusing on fan data should help the club intensify the relationship with its fans and be ahead of other teams in the digital competition. Whether Man City is the number 1 awaits to be seen. However, thanks to its Hackathons with Google, experiments with Snapchat Spectacles and their own Amazon Fire TV app, it is clear that Manchester City stands out as one of the more innovative clubs.