These are figures that make it difficult for advertisers, brands and companies to be happy: since January, 2017, Facebook's commitment to publishers and brands has fallen by more than 20 percent (!).
This is what the analysis platform Buzzsumo found out by analyzing more than 880 million Facebook posts. The average engagement in a post has fallen from 340 to 264 in the past six months.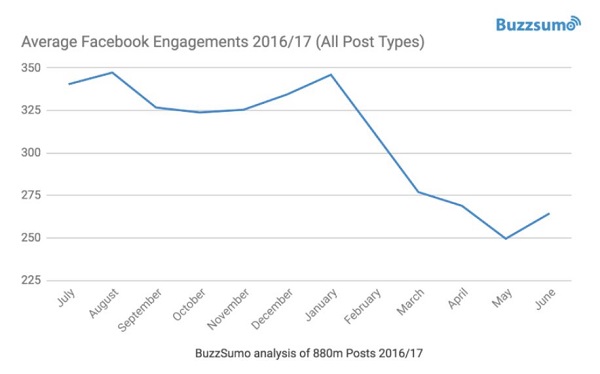 If you look at the facts at a deeper level, you see that picture posts suffered the biggest slump (from 480 to 325). Link posts fared only slightly better, sinking from 214 (already a low level) to 168.
The smallest losses are for video content. The average engagement with a video post fell from 636 interactions to 560 from January to June 2017. Still, average engagement with videos is still 3.3 times higher than for traditional link posts.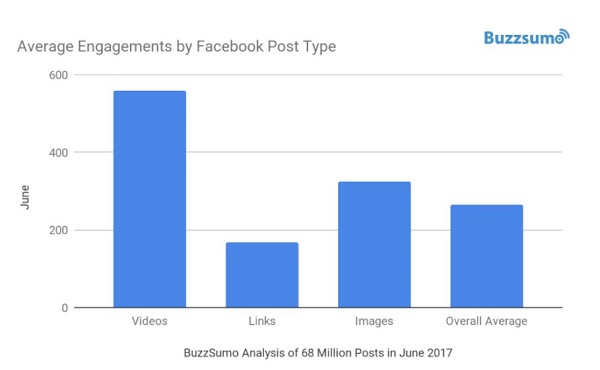 Reasons for the declining Facebook engagement
So why is it that the interaction rates on corporate sites have plummeted so much since the beginning of the year? There is no simple answer to that. It is probably the interplay of several factors that reinforce each other's effect.
Rising advertising spending: The decline in the organic reach of Facebook pages is likely to be directly linked to the rise in corporate advertising spending. Anyone who is not prepared to invest money in Facebook advertising will have to be satisfied with a further decline in reach in the long term.
More competition: The space in the news feed of Facebook users is limited. The more money companies spend on Facebook advertising, the more competitive the ad space. In addition, in the meantime, almost every company has a presence on Facebook. This in turn means that the number of competitors is steadily increasing.
More content: As the number of Facebook pages increases, there is an increase in the amount of content available. With each new page and the decreasing reach of each post, pages increase the number of posts they make and the total amount of content on Facebook shoot upgrows. By the way: Facebook expects an average of 1,500 post slots per day in a user's news feed.
Changes to the algorithm: Of course, the continuous changes to Facebook's news feed algorithm also contribute to the fact that engagement is decreasing. A good example of this is fake live videos with an invitation to vote via reaction. This misleading method has now been banned by Facebook. With the disappearance of the "format," the numerous interactions have, of course, also failed to materialize.
The Buzzsumo numbers prove the progressive decline of Facebook as a publication channel. However, Facebook's level of engagement is of course still clearly above other channels such as Twitter or LinkedIn.
In addition, there are still enough formats – (keyword: live videos) – which, in combination with good content, are delivering great results.