The basic principle is always the same for all electric longboards: moving and braking are done using a remote control which is connected to the control unit and the motor under the board via Bluetooth. The Mellow Board Surfer does not differ very much from its competitors.
Features
Included in delivery is the fully configured board including motor, battery pack, remote control, wrist strap and charging cable. Why "fully configured"? Because Mellow Boards also offer a set to convert any longboard or skateboard into an electric board. This is called Mellow Drive.
But we are mainly interested in the Mellow Board Surfer. Let 's take a look at the important data and facts – all important specs are listed here:
| | |
| --- | --- |
| Specs | Mellow Board Surfer |
| km/h | 40 |
| Distance | 12 – 15 km |
| Slope | 20° |
| Charging Time | 3.5 hours Std. * |
| Weight | 3.9 kg |
| Modes | 4 |
| Price | € 1,999 |
* Quick charge possible: 45 minutes
Mellow Board: Replaceable battery pack
€ 2,000 for an electric skateboard is quite a lot – and 400 euros more than the electric board from Boosted. The Mellow Board Surfer offers some advantages – for example, the distance it can reach is almost twice as great.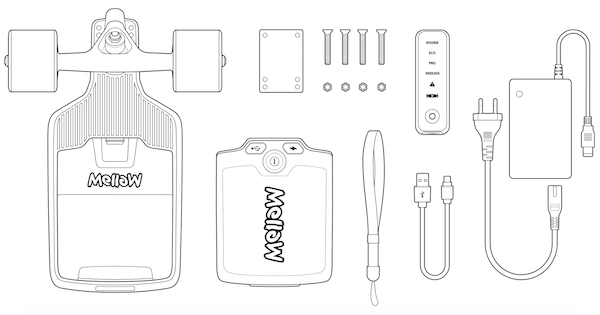 In addition, the battery pack can be replaced within 30 seconds and without tools. With a replacement battery and a large power bank, you could then reach almost 45 kilometers (after 15 km, put first battery pack in your backpack and recharge by Powerbank, use the second rechargeable battery pack then after 30 km, the first battery pack is ready to go again).
Mellow Board Surfer: Easy and fast
In addition, the Mellow Board Surfer is significantly lighter (6.8 kg vs. 3.9 kg). This is noticeable during transportation, although the Boosted Board is more protected. The 5 additional km / h top speed is not important. You'd have to be a little crazy to go the top speed of 40 km / h anyway.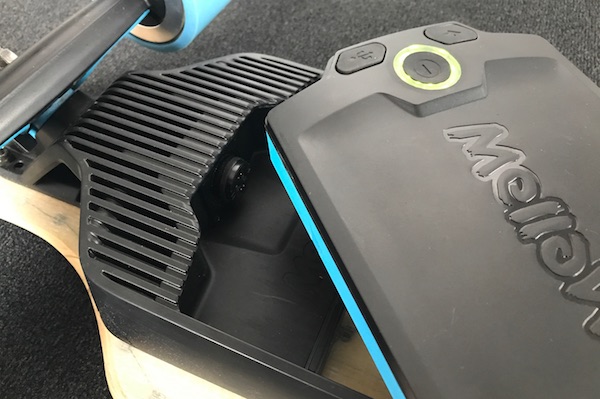 However, the Mellow Board Surfer does not do as well with bumpy surfaces – it is significantly stiffer. So, you tend to feel the bumps more. In terms of appearance, the light blue of the board looks funky, cool and summery, but at the same time, it also looks cheap – like a toy.
The steering takes getting used to
The rubber covers on the battery pack, which can prevent water from entering the charging port and dust from getting into the remote control, are so solid in our test we could not get them out without tools. On the one hand, this creates a high degree protection, but it is also enormously annoying.
The remote control does not offer as much control as the small wheel of the Boosted board. Here, Mellow Board has used a sliding mechanism that seems less precise and requires more getting used to.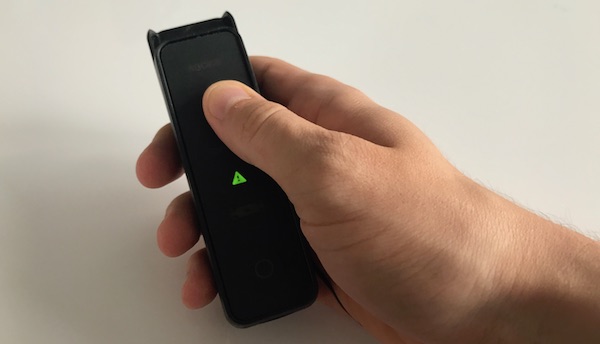 A responsible product
However, Mellow Boards show much more of a sense of responsibility than others in one way: the pro-mode can only be activated after 30 kilometers of distance traveled.
For someone who could not sleep for several nights because of injuries from trying out electric longboards, this is great! However, for professionals, this could be annoying.
By the way, the distance, modes and other features can be adjusted by means of an easy-to-use app. Very nice.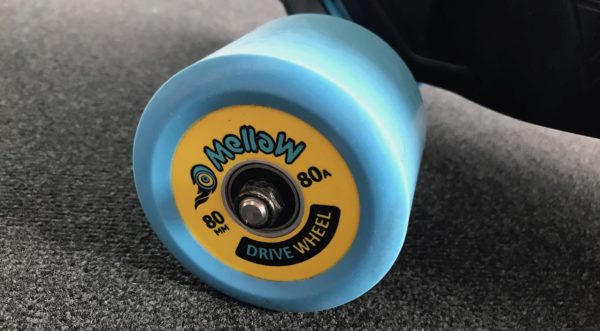 The ride experience
But now about the ride experience. Here, the Mellow Board proves mediocre – for several small reasons which significantly reduce the pleasure of driving. You feel super safe on the board, the deck has a comfortable size, the grip is great and the acceleration is very precisely adapted to the individual modes.
But: you always have to push the board to be able to start it. According to Mellow Boards, this protects the battery and makes it safer. This may be true, but it's no fun. This is like having to push your Tesla before it starts. Sure, we're just talking about a few steps, but it's still annoying.
This is especially true when maneuvering. For example, if you want to take tight corners or avoid obstacles. Also, the Mellow Board can't reverse. So, if you want to turn around, you have to get off and turn the board by hand.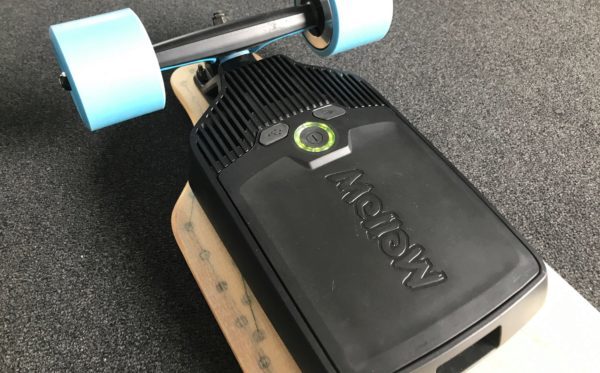 Conclusion: Big price for high performance
At € 2,000, the Mellow Board Surfer is on the pricey side compared to other electric longboards. This can be seen as a result of factors such as its range, weight and modular design. In terms of how fun it is, it still leaves some to be desired, but this could be improved with small adjustments by the manufacturer.
If you want to convert your current longboard, you will find in the Mellow-Shop the modular pack for € 1,699, an additional battery pack (which you do not need for distances up to 15 kilometers) is € 249, and there is another minor variant, the Mellow Board Cruiser, for just under € 2,000.
Further information and purchase options are available on the Mellow Boards website.