Google and Microsoft are apparently flooding smaller search engines with targeted spam ads in order to gain advantages. There are also indications that the two tech companies reserve prominent ad spaces for themselves. A violation of European competition law?
Even though Google now has a relatively extensive product portfolio, we usually associate the company with the search engine of the same name. It's a bit different with Microsoft, as the technology group is primarily known for its operating system of the same name.
However, Microsoft's search engine Bing is undoubtedly Google's biggest competitor with a global market share of around ten percent within desktop applications. However, the undisputed leader and top dog is and remains Google – with a market share of over 80 percent.
Smaller search engines such as Ecosia, DuckDuckGo and Qwant often stand little chance simply because of the horrendous market power of the two search engine giants. Especially not when Microsoft and Google seem to deliberately spam the competition and reserve the most coveted ad spaces for themselves.
A source, who wishes to remain anonymous, has leaked information to us in this regard, which credibly proves that the approach of Microsoft and Google is, to all appearances, a deliberate one. Extensive research by the European branch of the US daily Politico comes to a similar conclusion.
Distortion of competition: How Microsoft and Google flood the competition with spam ads
Microsoft and Google are apparently targeting so-called spam ads to smaller search engines that get their search results from the two top dogs. At the same time, the two companies are reportedly restricting prominent ad slots on partner search engines.
In this regard, the case has certain parallels to an EU ruling on November 10, 2021. At that time, the Court of Justice of the European Union (EU) imposed a fine of 2.4 billion euros on Google because the company had favored its own search results with its Google Shopping service and thus distorted competition.
Now Google and Bing are said to have deliberately harmed the competition with a similar approach. It is true that the smaller search engines (sometimes inevitably) refer to the results of the competition and have made corresponding contractual agreements – also for ads. However, this certainly does not apply to spam ads that harm their own search engine.
While Ecosia, DuckDuckGo and Qwant obtain their search results from Bing, for example, the Startpage search platform draws on Google's results. However, it seems to be an open secret that the entries also include spam ads, which also massively harm the alternative search engines.
This is how Microsoft and Google harm smaller search engines with spam ads
During the research of BASIC thinking, it was heard from the Ecosia environment that in principle all search engine partners of Google and Bing are massively losing income due to this procedure. This could ultimately even lead to users turning their backs on smaller search engines and specifically turning to Google or Bing themselves.
Although smaller search platforms basically use the same ecosystem as the major search engines, the user experience on the different platforms sometimes differs considerably. On the pages of Ecosia, DuckDuckGo and Qwant, users are even downright inundated with annoying ads.
According to reports, Google and Bing would even flood smaller search engines with ads that do not match the search result at all. During our research, however, we did not come across such a case.
Different search results shaped by ads – despite identical ecosystem
These results are even reproducible. For example, if you search for the term "Champions League final" on the ecological search engine Ecosia, three independent advertisements initially appear. Only then does a corresponding Wikipedia entry and a link to the UEFA website appear.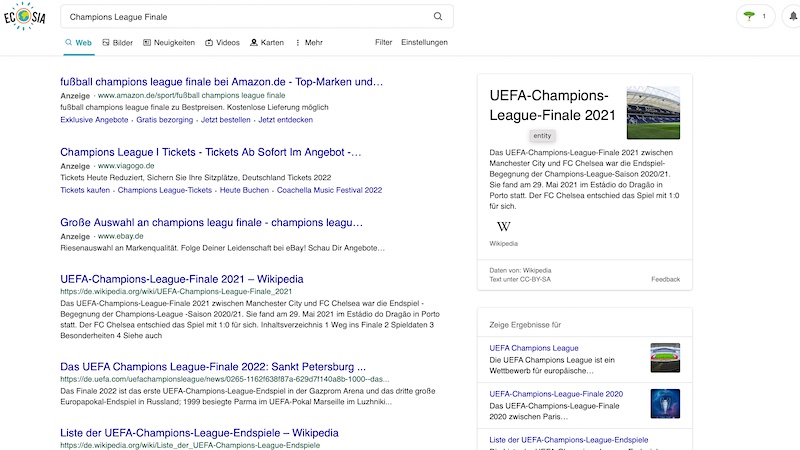 The search engine Qwant, which was developed by the French company of the same name, presents a similar picture: There, even four independent advertisements are initially displayed before the corresponding Wikipedia entry appears.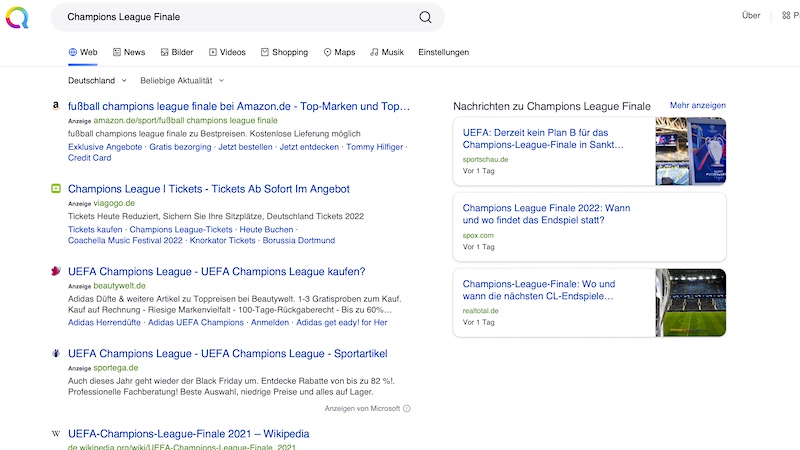 On Bing, these ads appear for the same search query, and although the platform makes its search results available to Ecosia and Qwant, they do not. In all three cases, we also performed the search using a German IP address and the identical web browser.
Different search results also with Google and Startpage
For other search queries, similar (sometimes considerable) differences in quality can be found. For example, when searching for the term "news", Startpage initially spits out three independent ads.
One of them is even the subscription page of a daily newspaper. Only when scrolling down do the actual news contents appear, such as from Tagesschau, NTV and Co.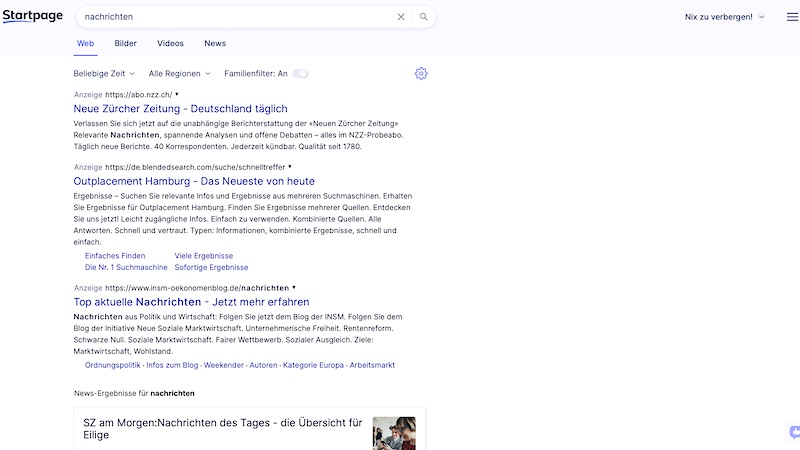 In principle, there is nothing unusual or even objectionable about ads. However, the crux of the matter is that Google does not spit out these ads for the same search query. This is despite the fact that both search engines are actually based on the same search infrastructure – namely that of Google.
If you Google the term "news", no advertising appears. The search spits out direct links to the websites of Tagesschau, NTV and others, which only appear further down in the Startpage search. According to reports, Google would also claim prominent ad spaces for itself, so that the competition cannot benefit.
For example, if you search for the term "buy refrigerator," Google and Bing show different ads than the partner platforms Ecosia, DuckDuckGo and Qwant.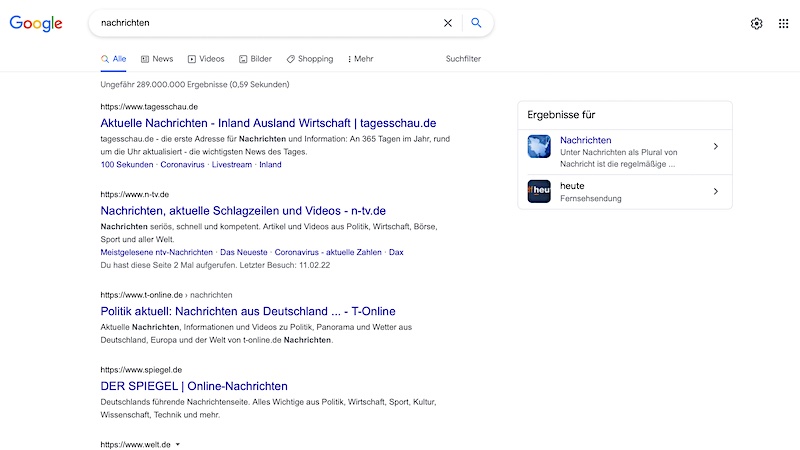 Abuse of market power: Is the EU now called upon?
This approach by Microsoft and Google has long been a thorn in the side of smaller search engines. However, due to their dependence on the two market leaders, their hands are often tied to a certain extent.
The Ecosia community continues to say that the EU in particular is now called upon to put a stop to this abusive market behavior. Google and Microsoft (or Bing) have not yet responded to inquiries from the BASIC thinking editorial team.