Parler, the political right's favorite social network, is offline for now. But radicals have already found alternatives – and they are no less disturbing.
After many social networks blocked Donald Trump's accounts following the attacks on the U.S. Capitol, it quickly became clear that Parler is the new social network of the moment.
Radicals from the right-wing political spectrum in particular cavort here, and content is hardly moderated (with the exception of spam or pornography). So it has always been a popular network for Trump supporters, who now switched to Parler in droves after the U.S. president's social media block.
But just a few days after Parler's steep rise, its triumphant advance was already over. First Google blocked the app from its Playstore. Then Apple followed with a block in the App Store, and then Amazon came along.
Amazon stops support for Parler
Amazon previously provided the necessary online tools for the app. But then Amazon announced that they would temporarily cut off support during the night from Sunday to Monday. A short time later, Parler was offline.
Amazon had said in a letter to Parler that the risk of violence was too high due to the content on the platform. Anyone searching for the platform on the web now gets an error message.
In the meantime, Parler is scrambling to find a new cloud provider. Initially, Parler CEO John Matze said that could take a week. But the search appears to be a bit more difficult than anticipated, as many providers are probably shying away from Parler after the reactions from Apple, Google and Amazon.
Numerous online sales platforms and email providers also apparently don't want anything more to do with Parler, Matze told Fox News TV.
But what exactly makes Parler so problematic?
Parler: the platform where you're allowed to say anything
At first glance, Parler is simply another social network, just like Twitter, Facebook or Tik Tok. The social media site likes to describe itself as a platform for free expression, where users are allowed to say anything without moderators interfering or content being blocked.
This is where the differences to Facebook & Co. become clear. Because even if the major social media platforms are too lax for many in dealing with critical content, there is a form of content moderation here.
In other words, hate messages, calls for violence or glorification of violence are not permitted and are removed. The major social networks also now flag posts that contain misinformation or unsubstantiated statements.
It didn't take long for conspiracy theorists, climate change deniers, right-wing extremists and Trump supporters to discover Parler.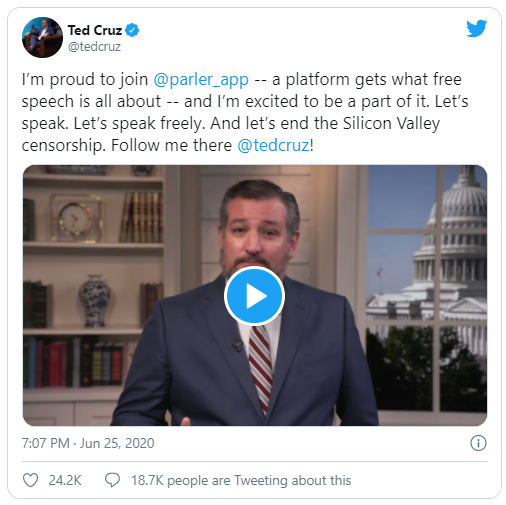 That's why Parler is now considered one of the favorite networks of conservatives in the US. According to the Washington Post, many users registered with Parler after this year's US presidential election. According to the report, the network has around ten million users.
Radical parallel worlds
Parler is very reminiscent of Twitter. Here, too, users use hashtags and a news feed shows the posts of accounts that one follows. However, as Parler is keen to emphasize, the feed is not ordered by an algorithm, but is displayed chronologically.
In this way, the network wants to show that it does not censor content in any form. Thus, almost exclusively right-wing extremist views circulate very freely here, which then naturally always carries the risk that these theories will spread further.
But it's not unusual for conservatives in the U.S. to build parallel media worlds, Lawrence Rosenthal, a professor of radical right studies at the University of California, Berkeley told Vox magazine.
"This follows a pattern that the right wing has had since the rise of talk radio in the '80s and then through live cable TV and finally the rise of social media," Lawrence says.
Parler, accordingly, is not the only alternative social network for radicals on the right spectrum. Gab, another Twitter copy, and the video network Bitchute also provide space for uncensored expression.
Conspiracy theories, racism and violence
A quick look at Gab shows: "Free expression of opinion" here means free space for (right-wing) radical statements.
Left-wing political statements are labeled communist, non-Christian groups as a threat to U.S. identity, and big-tech companies like Apple as agents of censorship.
After Parler was blocked, Gab unsurprisingly saw a large increase in users, as Gab CTO posted on the platform on Monday evening.

"Hotbed of hate"
Bitchute, on the other hand, could be described as a YouTube parallel network. Here, too, the content is either on the right-wing political spectrum or propagates conspiracy theories.
Directly on the homepage, for example, there is a video that (falsely) claims that masks are ineffective against the spread of the corona virus, as well as numerous videos with racist content.
Two columns above, there is a video claiming that the Holocaust never happened. Jews, Muslims, African Americans, immigrants, and the LGBTQ+ community are defamed throughout.
Whether these statements are true, inflammatory, or completely made up is impossible to discern at all. Nor is there any attempt by the platforms to block such radical content or moderate it in any way. At least for US users.
On the other hand, those who want to access some of the more problematic videos with a German IP address cannot. A message appears here indicating that the content might be illegal in the user's country.
The Anti Defamation League calls Bitchute a "hotbed of hatred". Although the terms and conditions actually state that calls for violence are "not tolerated," videos glorifying police violence or inciting violence against minority groups can be found here – and without a long search.
So even if Parler is temporarily or even longer blocked: If you want, you can find numerous alternatives on the web – for now.