Elon Musk spontaneously recommends the messenger "Signal" as a WhatsApp alternative in a tweet – and the new user registrations take off.
Elon Musk is not a big fan of Facebook. That can certainly be said after the head of Tesla and SpaceX deleted the accounts of both companies from Facebook in one of his radical Twitter actions in 2018.
Today now comes the next blow against Facebook. Elon Musk recommends to his followers on Twitter: "Use Signal".
Users angry about new privacy policy
Like WhatsApp, Signal is a messenger service that has also made a name for itself with its secure encryption technology.
WhatsApp, which has been part of the Facebook group since 2014, has now caused outrage among users with an update to its privacy policy.
In particular, this concerns the planned more active exchange of user metadata between WhatsApp and the parent company Facebook, which WhatsApp announces in its new guidelines.
This exchange explicitly does not affect the data of users from the European Union. WhatsApp is still not allowed to send this data to Facebook for advertising purposes or to improve the service, as a WhatsApp spokesperson once again explicitly emphasized.
But users from other countries are incensed, and WhatsApp users generally wonder why WhatsApp really has to collect so much metadata.
Because the extent of WhatsApp's hunger for data has now become clear in an iMessage update from Apple. As part of Apple's new privacy labels, users can now see in the App Store which personalized data an app collects.
Compared to other services, WhatsApp's list is much longer. If you know that other messengers work wonderfully without this data, the question arises: Why does WhatsApp need all this metadata?
WhatsApp has been collecting extensive user data for a long time. However, many users only really became aware of this after the Apple update.
And: In a direct comparison with other messengers, it also becomes very clear that WhatsApp collects much more personalized data than almost all other messenger services – with one exception… Facebook Messenger.
This is why Elon Musk recommends the Signal messenger
In the middle of this debate, Elon Musk now interfered with his tweet. His recommendation spread like wildfire and suddenly so many people wanted to download Signal Messenger that the company could no longer keep up with the requests.
Signal even had problems sending the verification codes to new users in the meantime and apologized for this on Twitter. An hour later, however, the problem was solved again.
Signal is not the only WhatsApp alternative, of course. Threema and Telegram are also considered extremely secure messengers. But it may have been the Apple update that prompted Elon Musk to recommend this messenger of all things. According to Apple's data label, Signal does not collect any personalized data from its users.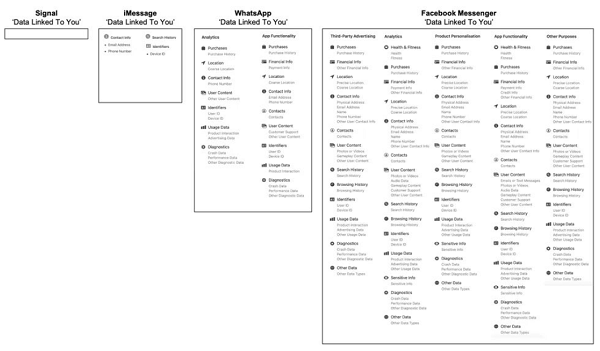 Users can set Signal with Messenger choice
Whether Elon Musk's tweet will have a lasting effect on the user numbers of Signal and WhatsApp remains to be seen. As recently as September, Signal with its ten million users was a "dwarf messenger" compared to WhatsApp with two billion users.
But users worldwide are increasingly concerned about their privacy and appreciate the high security standards of messengers like Signal.
Even U.S. politicians are currently taking apart the big tech companies, and Facebook in particular, because they fear that the social network, with its masses of user data, could have too much power.
However, it may take some time until the law changes, and until then, users have their privacy in their own hands.
After all, they can ultimately decide which services they want to trust. And WhatsApp and Facebook can only collect data when people use their services.