Actually, Twitter has banned Trump from posting at all. Actually. But now he has published a video after all and the platform has no problem with it.
A few days ago, the social media platform Twitter had issued a complete platform ban to US President Donald Trump. Twitter justified the decision by saying that he had disregarded the platform's rules despite being warned and temporarily banned for the Capitol events.
Should Trump still try to post something, it would be deleted, Twitter promised.
But now Trump did post a video on the platform today, and Twitter didn't delete it.
This is why Trump is blocked on Twitter
Trump had continued to post statements after his account (@realDonaldTrump) was unblocked following the Capitol attacks, which – according to Twitter – could incite new violence and cause further unrest.
Twitter then banned Trump from using the platform altogether. The ban thus applied not only to the account @realDonaldTrump, but was directed against the US president in general.
Twitter told The Verge magazine that the block was explicitly directed against Donald Trump. If he tried to post via other accounts, such as the official US presidential account @POTUS, they would immediately delete those tweets.
That's exactly what Trump tried to do a short time later. But Twitter immediately removed the Trump tweets that he had posted via @POTUS.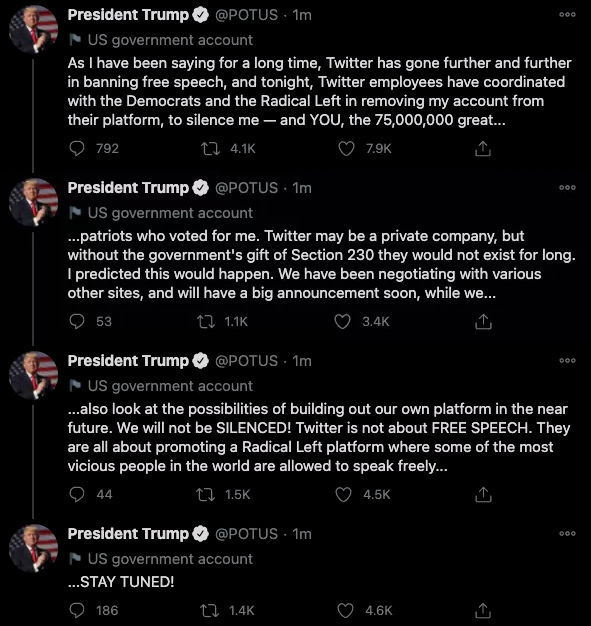 Tweets from the president from the @TeamTrump account also did not stay online for long.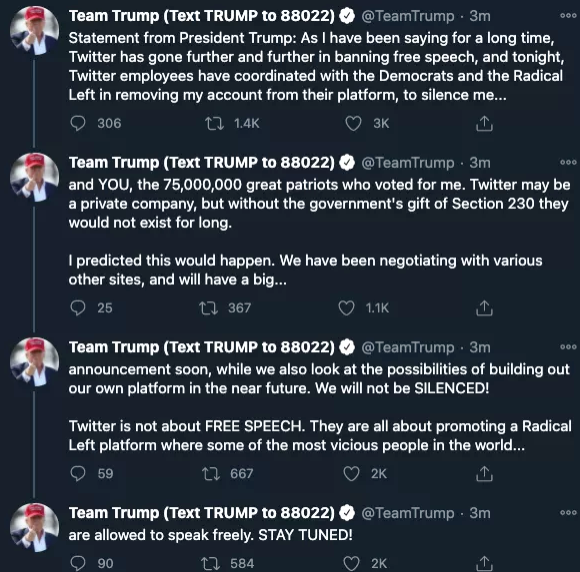 Today, on the other hand, Trump posted a video again. This time it came from the official White House account – and Twitter has not yet removed the post and apparently does not intend to do so.
Twitter: Trump does not violate rules
In the five-minute video, the US president addresses Americans and refers to the Capitol events in it.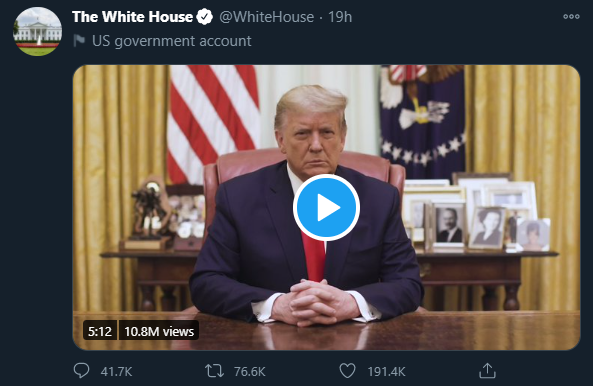 Among other things, Trump says in the video:
I unequivocally condemn the violence that we have seen over the past week. Violence and vandalism have absolutely no place in our country.
He also asked his viewers to put aside their aggression and overcome the antagonisms in the country, so that instead we can look to the future united.
Such peaceful tones are rarely heard from Trump, and they are also words that many would likely have wished for before or during the attacks on the U.S. Capitol.
Because of the content of the video message, Twitter also decided not to delete this video of Trump.
To NBC journalist Dylan Byers, Twitter explained this as follows: "This tweet does not violate Twitter rules."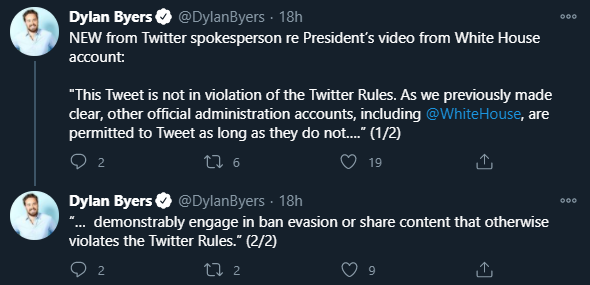 Twitter: Tweet is now okay – arbitrary decision?
That may be correct. But it violates the actually clear post ban that Twitter had issued. Because if you have completely banned a person from posting, that should actually apply to all posts, no matter how peaceful they are now, right?
Twitter has so far not wanted to comment on this.
But apparently Twitter CEO Jack Dorsey himself is a bit split when it comes to the ban. Speaking to the BBC, Dorsey said Trump's block was "right" but "dangerous."
Twitter is not the only platform that has decided to block the U.S. president because of the Capitol events and the violent role he had in them through his social media posts.
Facebook and YouTube have blocked Trump, and Snapchat has now permanently blocked Trump as well. Finally, a few days ago, Amazon also ended its support for the conservative social media platform Parler, which many had initially seen as a new mouthpiece for Donald Trump.
The decision to allow the US president's latest Twitter post after all shows how difficult such blockings are – and also how arbitrary they can be.
Politicians like Angela Merkel criticized the Twitter decision and called it "problematic. Such decisions should not be made at the "discretion" of private companies and their terms and conditions, but should have a legal basis.