After a break of several years, it will be possible to verify one's Twitter account again from 2021. But how and, above all, who gets the coveted blue checkmark – and who loses it? We present the new guidelines for official Twitter verification.
The blue checkmark for verified accounts is something like the ultimate confirmation for people on Twitter. Anyone who considers themselves important or who is important tries to get one of the coveted badges.
The problem with this: since November 2017, Twitter has de facto discontinued user-side verification of accounts. Of course, new accounts still received Twitter verification. However, the initiative always came from the short message service itself.
Twitter verification possible again from 2021
In November 2020, Twitter itself brought new wind into the discussion. The company announced in a blog post that there are currently too many accounts with a blue checkmark that don't really deserve it.
Accordingly, the company wants to first demote the inactive, incomplete profiles and then resume the verification process. There will also be new rules and guidelines for this. These guidelines for Twitter verification are now publicly available.
The blue verified badge on Twitter lets people know that an account of public interest is authentic. To receive the blue badge, your account must be authentic, notable and active.
This is how the short message service summarizes the new guidelines in one sentence.
Twitter verification: Who or what is "notable"?
So there are three criteria that Twitter wants to look at in the future. Authenticity is a basic requirement that each account operator must fulfill individually. But what or who is considered "notable" – that is, remarkable or noteworthy?
Twitter says that your account must represent or be directly connected to a well-known person or brand. Specifically, this applies to:
Governments, ministers, members of parliament, representatives, official spokespersons and candidates at the state and national level.
Companies, brands and organizations, as well as their executives and representatives. Prominent is considered to be a media presence on Google Trends, Wikipedia, databases such as Global Giving or a stock exchange listing.
Media of all types and journalists who work to the standards of professional journalism.
Companies in the entertainment industry. These include film studios, TV stations, and profiles of shows.
Actors, directors and the like need at least five registered productions on IMDB or six notable mentions in the media within the last six months.
Athletes, coaches, clubs, leagues participating in national and international events. Amateur athletes are explicitly excluded.
Special role for activists, organizers and other influential personalities
Of course, there are also accounts that do not fall into any of the above categories but still play a significant role in society, politics, culture or another community.
Twitter has set separate rules for precisely these individuals. These include, for example, that the account in question has been active for at least six months and does not violate Twitter's applicable guidelines and requirements. This refers, for example, to the spreading of discrimination and hate.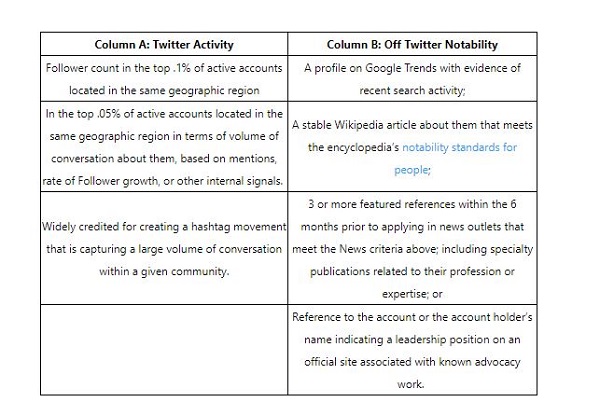 Twitter verification: When is an account considered active?
The question of when an account is active is much easier to answer. You must …
have filled out your profile completely, including your name and picture.
have confirmed your phone number or e-mail address.
have been active at least once in the last six months.
Nor may your account have been suspended for 12 hours or even seven days due to a violation of Twitter's policies. However, Twitter explicitly reserves the ability to make exceptions when defining active accounts.
These accounts are unsuitable for Twitter verification
Despite all personal efforts, there are some Twitter accounts that are basically excluded from the blue checkmark. These include:
Parody, newsfeed and fan accounts.
Pets and fictional characters that are not associated with a verified brand or organization.
Accounts that violate the rules on manipulation and spam and have purchased followers, for example.
Accounts of individuals, groups, or organizations that incite hate or violate human rights through discrimination.
How to lose your Twitter verification
Once you get the blue tick, it doesn't mean you'll keep it forever. Twitter emphasizes this very clearly at the conclusion of its guidelines. The possibilities for demotion are many.
For example, you'll lose your special status if you're inactive or your profile is no longer fully populated.
Likewise, verification is only valid for the purpose to which it is linked. This means that if you worked as a journalist for a major media outlet and then go freelance, you may lose your blue tick.
Also, any violations of Twitter's policies will result in a suspension and a loss. This includes, but is not limited to, hate speech, abusive behavior, misrepresenting facts, misleading users, glorifying violence, or spam.